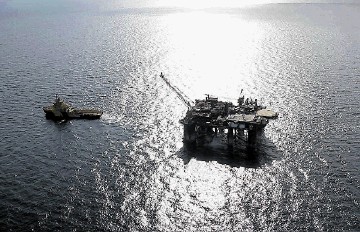 Israel's Delek Group is eyeing new acquisition targets in the North Sea.
The company said yesterday its mission to become a major player in international oil and gas exploration and production was just starting.
And it identified the North Sea and North America as areas of special interest.
In a conference call highlighting key points in the Netanya-based group's 2016 results, Delek said the global ambitions were backed by "exceptional financial strength".
It added it had a near £800million war-chest at its disposal for further acquisitions.
Delek became the biggest shareholder in North Sea-focused Ithaca Energy in 2015 through a £43million investment.
The Israeli group currently owns 19.7% of Aberdeen-based Ithaca and has offered £1.17 a share for the rest of the business.
Shareholders have until 10pm (UK time) on April 20 to accept, with Ithaca's board having unanimously recommended the offer.
Delek's bid values Ithaca, which achieved start-up on the Stella field last month, at around £1billion.
In January, it emerged Delek had taken a 13.18% stake in Aberdeen company Faroe Petroleum, from Dana Petroleum, in a £42.77million deal to further boost its North Sea presence.
"The process does not end here," Delek head of investor relations Dina Vince said yesterday.
She added: "We continue to look for synergistic and strategic opportunities, especially in North America and in the North Sea."
Delek more than trebled its pre-tax profits last year to £243million, from £79.4million in 2015, though revenue fell by 9% to £1.28billion.
Revenue in 2017 will be boosted by an expected 19,000-22,000 barrels of oil equivalent per day from Stella.
Ms Vince said: "We believe Ithaca will contribute to our continued growth, and we look forward to reinforcing and building our status in international markets.
"2016 was a fantastic year for Delek Group. We successfully met most of the goals we set ourselves.
"We are in a very strong shape financially, with a solid level of cash.
"2017 will be marked by advancing the group's international presence, honing our focus on the energy sector with the goal of becoming a key player in global energy markets."
Recommended for you

D&I progress? Yes, but 'still too many NDAs being signed', says stalwart