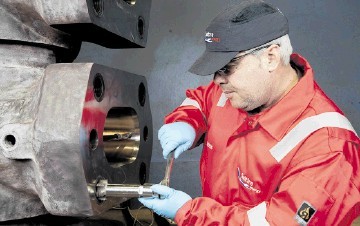 The owner of an Aberdeen oil drilling equipment rental firm has pledged to continue investing in the business despite writing £43.2million off the value of its assets.
Mike Loggie, chief executive of Saltire Energy, said the company has "continued its strategy of investing in new equipment, which the directors believe will result in long term growth."
The depreciation charge caused pre-tax profits to fall £34.6million into the red in the year to the end of June 2016. Without this exceptional charge, the company made pre-tax profits of £8.3million, down 46% on the prior year. Turnover also slipped to £29.9million from £32million in 2015.
The firm added that its investment strategy "mitigated a potentially more significant reduction" in its performance in 2016.
Mr Loggie, who in recent years has been recognised by organisations such as EY and Entrepreneurial Scotland for his success as a business leader, said: "Although there has been a decrease in profit, this year has seen positive activity for Saltire.
"Not only have we secured a series of new contracts, but our international growth has been outstanding. International operations now account for 44% of our business – marking a 60% increase from the previous year.
"We've used the downturn to lay the foundations for times ahead and our dedicated team remains positive and focused, not just on providing high quality equipment to current contracts, but also on the potential for growth."
The number of employees remained the same in the year at 61.
Last year the Portlethen-based firm extended its shirt sponsorship deal with Aberdeen Football Club for two years until 2018.
In a statement the company added that it has also maintained its commitment supporting local charity Befriend a Child and has financially supported the Saltire Sports for Schools since 2009, having pledged its support through to 2018.