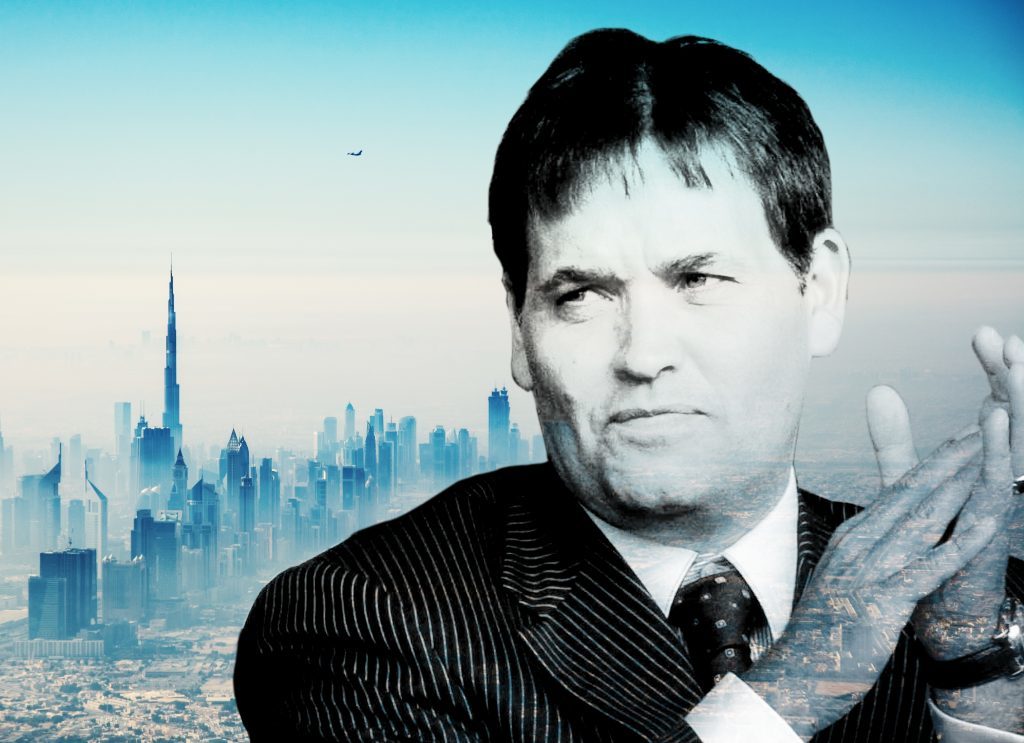 One of Scotland's richest men who fled the country after going bankrupt has been forced to return home after his Middle-Eastern dream went "bust".
North-east businessman Calum Melville, who once featured in the Sunday Times' Rich List, moved to Dubai to rebuild his empire, leaving a string of debts in his wake.
But now his bad fortune appears to have caught up with him in the UAE after he was forced to leave his home and office space for unpaid bills.
Since his return to the Granite City, dozens of workers and contractors have contacted The Press and Journal claiming they have fallen victim to Mr Melville's bad business deals.
But in an exclusive interview, he said he "refused to give up", despite having racked up more than £750,000 in debts and losses.
He claimed he planned to raise the cash to try to restart the business – OIM Energy Group DMCC – in Dubai in order to pay people back.
Speaking from his in-laws' house in Aberdeen, he said he understood it would be difficult to convince people to trust him in the future but said "where there is a will there is a way".
And he insisted he was "absolutely, unequivocally not crooked".
The extent of Mr Melville's money troubles came to light in March 2014 when he was evicted from his multimillion-pound holiday home beside Gleneagles.
A sheriff gave him 14 days to pack his bags for failing to pay back the Clydesdale Bank.
Then two years ago he was declared bankrupt when he failed to pay back the £450,000 he owed, despite numerous court orders and demands from his creditors.
But last year the former Grampian Industrialist of the Year told The Press and Journal it was all part of a bigger plan to avoid paying off more debt.
At the time he insisted he was "far from pleading poverty", claiming he was "perfectly comfortable in Dubai" in his £3million home and driving a 2015 Bentley Continental GT Speed.
He said he was running multiple successful businesses in Dubai – including a hotel group and a nightclub – and insisted he would never return to the UK.
But in his most recent interview with The P&J he said he and his wife Susan Melville, who is the company's main director, were "stuffed" and said the business was "bust".
He said: "We ran out of cash. We're stuffed. Everything is bust. We just need to start again from scratch.
"Nobody likes me because people think I owe them money, but Susan and I ploughed an absolute fortune into that business.
"Probably £350,000 of our own money. Susan has sold her Hermes handbags to pay people and her jewellery to pay people.
"I was supposed to be getting $400,000 in December from a guy in the Far East.
"He sent us all the e-mails and purchase orders only to find out that the people that the purchase orders had come from didn't exist at all so we paid him and then he disappeared to Vietnam."
Mr Melville said he believed people had a vendetta against him and said they had colluded to make up lies about his business deals.
He said: "Money is emotive. If you don't pay somebody they are not going to be happy."
Those who are owed money from the Melvilles claimed that Calum had "fled" back to Aberdeen in the middle of the night to avoid paying unpaid bills.
And the staff at OIM Energy Group claimed they were told to sell all the office furniture and computer equipment and take whatever cash they could.
Mr Melville accepted he had not paid his employees in the last few months before he left.
But he said he had only returned to Aberdeen after one of his business contacts in Dubai convinced him his passport was under arrest after a series of cheques bounced.
He said he felt he was initially unable to leave the country while his wife and children returned to the UK.
However, when he eventually discovered there were no travel restrictions in place he took the first opportunity to fly back to Scotland.
Mr Melville said his ultimate goal now was to raise the finance to try to start the business again in Dubai in the coming months to pay people back.
However, he declined to provide details of a "very significant deal" in Iran he hopes to complete.
He added: "I can't do that (pay people back) or solve that problem with me sitting here.
"We are £300,000 in the hole. That business is stuffed. What is levelled at me is that you have taken money out and not paid people. That is not the case by any stretch of the imagination.
"We will sort out anyone who is legitimately due money.
"Do you think we get enjoyment in not paying people? It is unpleasant and uncomfortable to say we don't have money to pay this."
But Mr Melville insisted that the hundreds of millions of pounds he once had were not squandered on a rock 'n' roll lifestyle.
When asked what happened to his money, he said issues around his former UK-based business, Cosalt, were to blame.
He said: "It is gone. Cosalt did terminal damage – that is a strong word, it did a lot of damage."
Following a civil court case alleging fraud, Mr Melville and others had agreed to pay Cosalt's new owners £2million in an out-of-court settlement in 2012, but said they were not admitting liability.
Mr Melville also said his reputation, caused by newspaper reports and former disgruntled employees, didn't help him maintain the work he obtained.
Adding to his woes is his claim he was the subject of fraudulent activity from an OIM contractor which prevented him from taking a payment of $250,000 in a deal.
"I'm not negating my responsibility but that is incredibly unhelpful with a business that is struggling. One of the issues we have got is people look online and think they can con us".
Calum Melville denies responsibility for 'forged' cheques
Documents seen by the Press and Journal show Calum Melville's business in Dubai has also been the subject of falsified documents and criminal activity.
The paperwork includes numerous bounced cheques – which is a criminal act in Dubai – worth £28,000 and drawn on accounts for OIM Energy Group DMCC.
Another was a letter from a UK high-street bank and stamped by Mr Melville's lawyers. It claimed his cash-strapped wife Susan Meville had more than £5million in bank accounts.
The Press and Journal has since confirmed that the letter is fake.
And when presented with a copy of the letter, Mr Melville said he was familiar with the document.
He claimed he was not responsible for it and said he has raised a complaint with his Dubai law firm Al Suwaidi & Company about the missive.
The letter appears to be from the Royal Bank of Scotland's private banking office in Aberdeen, claiming that Mr Melville's wife Susan "has various accounts with Royal Bank of Scotland with net funds of £5million sterling."
The letter, which is dated February 26, 2016, is signed by someone named Louis Friend. A source close to RBS has since confirmed the lender has no record of any such employee at the bank.
The Press and Journal has also confirmed that the bank logo at the top of the letterhead was no longer being used by the bank at this time as it had changed its branding.
It is understood the bank's fraud department has seen the letter.
Mr Melville's lawyers, Al Suwadi & Company, in Dubai has also distanced itself from the document despite it containing an official looking stamp.
The law firm has since said it only certified the letter as a valid copy – and did not verify it was genuine.
A spokesman said: "Please be informed that we only attested that it is a true copy of the original document presented to us.
"We are not responsible nor authorised to verify the authenticity of the signature and contents of the document certified by us. We do not attest to the authenticity of the document."
Melville also denied responsibility for rejected cheques worth 111,500 AED (£24,200) drawn on OIM's former bank, First Gulf Bank.
The reasons for the cheques being refused were "signatory not authorised", he said.
He claimed the signatures were forged. He said: "I know who signed them but it wasn't me. I didn't sign them."
Another OIM cheque, drawn from Mashreq bank for 16,000 (£3,473) and signed by Mrs Melville bounced due to "insufficient funds".
Documents also show that the business licence for his firm, OIM Energy Group DMCC, expired on January 30. But he dismissed this and said he had two months to renew it.
The Press and Journal has seen further evidence of companies in the UAE chasing OIM for money.
Middle East-based shipbuilding company Albwardy Damen is claiming an outstanding payment of $66,828 (£53,488) from OIM for crane repairs. It said the bill is now more than five months overdue.
Another crane and lift management firm based in Sharjah claims OIM owes them a further $26,000 (£20,800). Mr Melville has entered into a dispute with the company after he claimed the goods sold by the firm were stolen.
A spokesman for the company said: "Calum will use any excuse not to pay."
Background: From multimillionaire businessman and 'top of the league' to bankruptcy
Once named one of Scotland's richest men, Calum Melville appeared to have it all.
The oil and gas entrepreneur rose to prominence after taking over the family business – GTC Group – at the age of 21.
As his empire grew, a huge home in Rubislaw Den – one of Aberdeen's most exclusive addresses – and a Bentley in the driveway were signs of his success.
GTC was turning over £27million and had grown to employ more than 250 people. By the time he sold his firm to Grimsby-based Cosalt in 2007, he and his family were estimated to have amassed a £100million fortune.
In 2009, he joined the board of Scottish First Division side Dundee FC, and his rumoured £1.6million investment had propelled the Dens Park side to the top of the table. He resigned 18 months later.
His seemingly unstoppable success, along with generous donations to local charities, led to him being named Grampian Industrialist of the Year in February 2010, when he was 41.
However, by September 2010, Melville was suspended as Cosalt chairman of the Scottish operation as the firm mounted an investigation into "business practices" at the Aberdeen arm.
In 2013, police launched a criminal investigation into allegations the firm was the victim of fraud. Mr Melville and other directors had been sued by the Cosalt over claims equipment had not been delivered. The case settled out of court after the ex-Dundee FC director handed over a share of £2million.
After the civil settlement, Mr Melville said he was not admitting liability for an alleged multimillion-pound fraud and his lawyers said he was not the main subject of the investigation.
The Crown Office ordered the then Grampian Police to conduct a full investigation after the company handed over files for the civil case against the former millionaire.
And last night prosecutors confirmed there was insufficient evidence to pursue the matter.
Mr Melville moved his family to Dubai in 2014.
He later claimed to run OIM Entertainment, OIM Hotels Group, OIM Investment and OIM Fitness Group.
When speaking to the P&J, the father-of-three claimed the companies had purchased a hotel, owned a nightclub and employed more than 500 people. He also claimed involvement in a new office and residential tower in Dubai.
But last year he was declared bankrupt in the UK after failure to pay back hundreds of thousands of pounds to creditors.