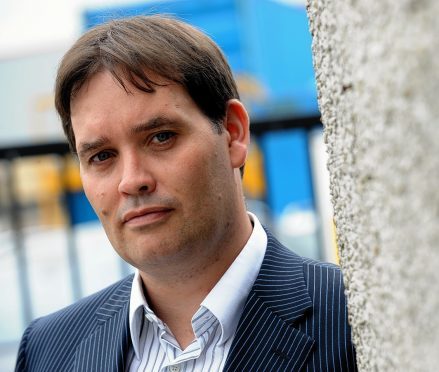 Dozens of people from around the globe have contacted the Press and Journal since we reported on Calum Melville's bankruptcy.
Employees, landlords, business associates and contractors have all complained about the unpaid bills, wages and debt he has accrued over the years.
Paul Conlan, who worked for Mr Melville's firm between July 22 and September 15 last year, claims he is owed more than £14,000 in unpaid wages.
The 40-year-old said he has not received "one penny" for the work he had carried out for Oilfield Integrity Management.
He said: "You know yourself that the oil industry has not been great and for someone like that to take advantage is just obscene in 2016/2017.
"It's been tough, 2016. It was really hard, made even worse by this situation. The last time I was paid for a job was in April last year as the industry has been slow especially in Asia.
"I have been using my savings and credit cards to live, my wife earns 15,000 baht, £349, a month and she works for a credit company. It has made it a little bit easier as I'm living in Bangkok where the cost of living is way less than the UK – if I were in the UK living I can only imagine that the situation would have been far worse.
"I have had to have friends and family help me out which isn't great at my age.
"The long and short of it is I haven't really been surviving as the money I was going to be paid was to be used for more courses to further my career in the industry, so the knock-on effect has been massive."
Mr Melville claims he wants to return to Dubai to try to revive the business so he can pay people like Mr Conlan.
However, he said he had no intention of repaying his landlord, despite owing him more than three months' rent.
The owner of Yanjoon Holiday Lets, where Mr Melville rented his Dubai apartment, claims he is due more than £11,000. He claims Mr Melville left the property at the beginning of the year and said he would not allow the family to return if they ever decided to come back to Dubai.
He also said he had taken formal legal action against Mr and Mrs Melville for their debts.
Mr Melville claims, however, that his family had paid for a number of services to be included in his apartment costs which had not been delivered.
He said the cleaners had not been to their home in months and said he was not prepared to pay for services he was not benefiting from.
Another disgruntled employee, Jack Boath, worked for Mr Melville's firm to manage eight rig contracts with Aban Offshore in South Africa, Iran and Singapore for a salary of almost £8,000 a month.
He said there were at least 50 members of staff who had outstanding payments from last year and said he had not been paid for nine months' worth of work.
He said: "If someone had said to me nine months down the line, I'm still not being paid, I would have left a long time ago.
"You get promises and letters claiming we will be paid, but that never happened.
"Calum comes across as likeable and charismatic but I feel conned. His reputation has been destroyed.
"My last communication with Melville was just before he left the UAE on January 30.
"I had gone into the Dubai head office to ask for my outstanding pay again.
"He asked me to take a seat in the main office and said 'I'll be with you in a few minutes, would you like a Mars Bar.'
"I was absolutely livid, meeting to discuss nine months of salary outstanding and the guy offers me a Mars Bar."
Mr Boath said the meeting was adjourned and was told his pay would be processed each month until finalised.
He added: "Of course he disappeared the day after and has had no contact. I was with the receptionist Glori Minerva who had received a message from Melville saying – 'empty the office and sell all the desks and computers' – which she has now done.
"I have not been back to the office since but assume it has now been taken back over by the landlords at DMCC free zone who were also owed money."
Mr Melville disputes how much cash, if any, Mr Boath was due and questioned if the work he carried out deserved payment.
However, he refused to be drawn on commenting further.
Meanwhile, back in the UK Jim Moig and Bob McKay, from Ellon, are still trying to recover around £58,000 still owed to them by Mr Melville after he bought over Global Lifting Services – a company they had built from scratch.
The pair originally launched legal action in 2012 when they still had not received what they were due, and subsequently spent thousands of pounds on legal fees taking him through the courts. Despite repeated attempts, sheriff's officers could not find him to serve him his bill.
But in 2015 Mr Melville was declared bankrupt and they have not been able to reclaim any of the money they are due.
Mr Moig told the P&J he was going to urge his solicitor to try to retrieve some of their cash after Mr Melville fled from Dubai and was recently back in Aberdeen.
He said: "I did not know he was back but now I do I will be sure to get in touch with my solicitor to ask if he can look into getting some of the money back. Why should he get away with not paying what he is due when he appears to have been living the high-life ever since."
When asked about how he felt about still owing Mr Moig and Mr McKay money Mr Melville said: "When I have money, they'll get money."
MRS MELVILLE HAD TO START SELLING HER LOUBOUTINS AND FUR COATS TO PAY OFF HER HUSBAND'S DEBTS
Described as his "rock" Susan Melville has remained by her husband's side for better or for worse.
But what few may know is that since their move to Dubai, the once glamorous brunette has done more than just lend her husband a shoulder to cry on.
After the family flitter their life to the other side of the world to start afresh they decided that any business venture they would embark upon over there should be headed up, on paper at least, by Susan.
This way she could overshadow her husband's reputation for bad bookkeeping.
However, the impact of establishing a business in the UAE in her name took its toll when bounced cheques, signed by the mum-of-three, ended up with her being arrested.
The act, which is a criminal offence in Dubai, also had her passport held until her debts were paid.
As things started to crumble around her Mrs Melville had to start selling her Louboutins and fur coats to pay off her husband's debts.
And when there were still more outstanding debts she turned to flogging her Tefal steam iron and a water cooler online.
After the family returned home to the UK the P&J travelled to Largs where we believed Mr Melville was staying.
Instead we were met by Mrs Melville who answered the door with her hair scrapped back into a tight bun and with not one stitch of makeup on. She was dressed in a large baggy jumper and tracksuit bottoms and spoke quietly. She was pleasant when we told her who we were and said her husband was now staying "somewhere up north".
But you could tell by looking at her that she had been suffering from some degree of stress.
Speaking to the Press and Journal Mr Melville said putting his wife's name on the business she had no part in running was his biggest regret.
He said: "If we were to do it all over again I would make sure she had no part to play in it."
Mr Melville admitted it felt "horrendous" when Mrs Melville was arrested over bounced or "dishonoured" cheques.
He said: "It made Susan unwell because of all the stress of it."
Mr Melville also said his wife had sold expensive Hermes brand handbags and jewellery in an effort to pay clients and staff in UAE.
He also claims he and his family have been the subject of harassment by former employees and his e-mails have been hacked.
Yet the former Grampian Industrialist of the Year insists he and his wife will be returning to the United Arab Emirates (UAE) region to restart Oilfield Integrity Management (OIM) Group.
But this time he would be the director, despite still being bankrupt in the UK owing more than £400,000.
"I would not set it up in her name again," he said.
"It will be me (as a director) when I return to Dubai."
Mrs Melville returned to Scotland a few weeks before her husband last year.
Mr Melville said they are currently awaiting the settlement of outstanding legal issues over bounced cheques in Dubai before she returns.
Mrs Melville declined to speak to the Press and Journal when contacted after her husband was interviewed.
RECAP
Calum Melville, former oil and gas entrepreneur, rose to success after taking over the family business aged just 21. As his empire grew he was named one of Scotland's richest men and in 2009 he joined the board of Dundee FC. However his good fortune soon started to unravel and in 2015 he was declared bankrupt. Leaving a string of debts in his wake Mr Melville moved his family out to Dubai in order to try to build a new empire in the sun. However in an exclusive interview with the P&J he admitted he had now returned to Aberdeen after his business went "bust".
Recommended for you

Equinor boss shares early memory of meeting the Queen