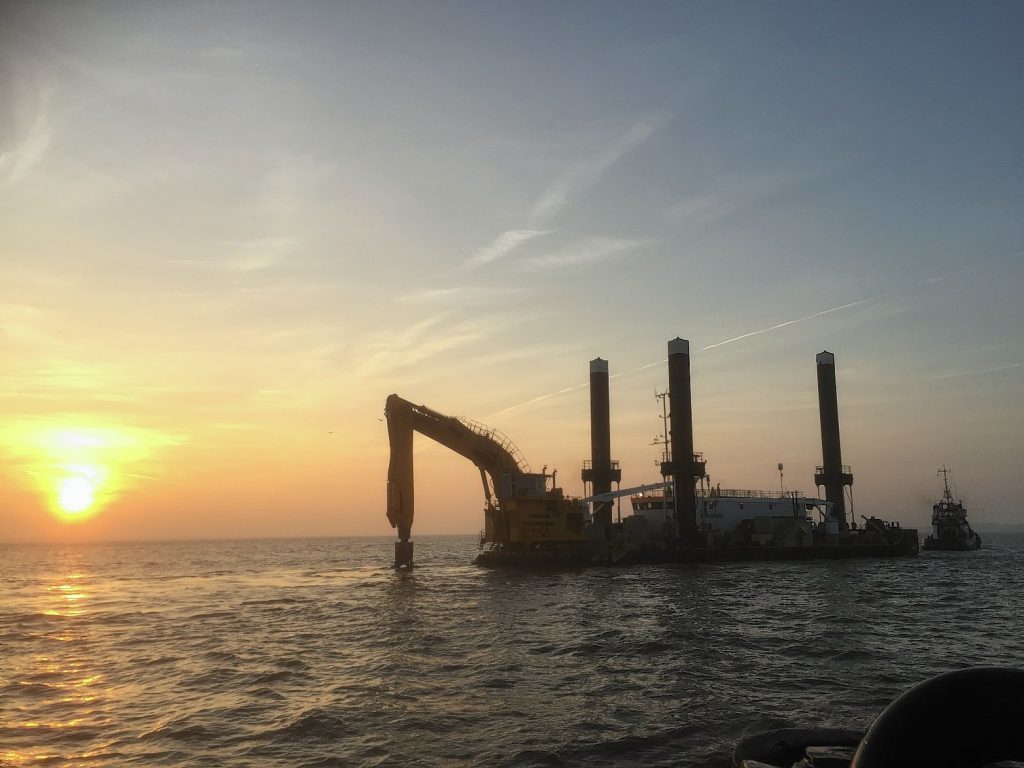 One of the world's biggest dredgers is heading for Peterhead as an economic renaissance takes off in the Blue Toon.
The dredging giant, MP 40, belongs to Dutch firm Boskalis and will be in the Buchan town's port to start work on deepening the berths as part of a £51million investment in new facilities to support economic growth.
At around 1,260 tonnes gross weight, MP 40, which is currently working on a project in Dover, is thought to be the biggest vessel of its kind ever to visit the UK.
It is due to arrive in the north-east on May 22.
"We've already had its little sister up here," Peterhead Port Authority (PPA) chief executive Ian Laidlaw said yesterday, adding: "This one's a super-monster."
Mr Laidlaw was among the speakers at a Peterhead Energy Hub (PEH) event, organised by business development company Ideas in Partnership (IiP), at Buchan Braes Hotel in Boddam.
Also making presentations and taking part in a Q&A session were Decom North Sea chief executive Roger Esson, Bibby Offshore senior project manager Alan Robertson and Subsea 7 UK project and operations manager Eric Annand.
Carolyn Maniukiewicz, IiP managing director and PEH chairman, said the 150-strong turnout, with a waiting list of 50, underlined a growing mood of optimism about Peterhead's economic prospects.
Firms such as PEH members Score Group, Dales Engineering Services, JBS Group, Surelift (UK), Maritime Developments and Davidsons Blast Services had a track record of "just getting on with it" no matter what, and were ready to continue doing so after the oil price slump, she said.
She added: "It's now time to widen that out, and developments taking place at the port will play a key part in making it happen."
Peterhead's port redevelopment is well under way after a £5million EU funding boost last autumn.
It is expected to reinforce the Blue Toon's position as Europe's premier white-fish port, helping the harbour to eventually support more than 9,500 jobs and generate in excess of £800million a year for the Scottish economy.
Deeper berths will allow an already booming port to attract bigger boats, while a new fish market will handle up to 9,000 boxes a day.
All of this helps not just fishing but also an expected upturn in activity in offshore oil and gas work, including decommissioning, and green-energy projects.
Mr Annand said Subsea 7's recent investment in two new ships for the North Sea, construction services vessel Seven Arctic and diving support boat Seven Kestrel, highlighted growing confidence in a market which Peterhead was also well-equipped to support.
And Mr Robertson said the town's "can do attitude", perhaps driven by its fishing heritage, helped to deliver the reliable support required by Bibby in a "reactive" oil and gas market.
In his closing remarks, Asco Group chief executive Alan Brown said it was "enlightening" after recent global travel to be back in Peterhead hearing about the level of oil and gas capability which exists in the town.
Mr Brown added: "I am looking forward to the day when Aberdeen becomes the satellite of Peterhead".