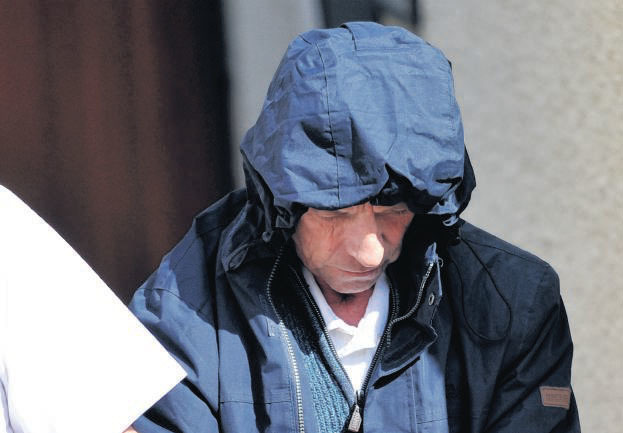 An North Sea offshore worker has been jailed after being found guilty of sexually abusing children over a 40-year period.
Alexander McLean was told he had "robbed children of their innocence" as he was sentenced yesterday at Elgin Sheriff Court.
The 63-year-old was convicted of preying on four young girls, with the earliest offence taking place in the 1970s.
One of his first victims wept with relief yesterday as her attacker was jailed for four years.
But the woman said afterwards that she regretted not reporting McLean decades ago – as she believes it might have protected other children from him.
McLean, of Slater Crescent, Portknockie, still maintains his innocence despite a jury finding him guilty of a string of vile offences.
He preyed upon his first two victims at addresses near Falkirk in the 1970s.
Prosecutors said he used "lewd, indecent and libidinous practices" on the children – one of whom was just six when the abuse began.
It is understood that McLean moved to Portknockie with his wife in the 1980s.
He was found guilty of abusing another child in Moray in 2014.
And he was convicted of sexually assaulting another young girl between 2015 and 2016.
Yesterday, his defence advocate Bill Adam pleaded with Sheriff Olga Pasportnikov to impose a lenient sentence.
He said: "His wife is in poor health and my client is worried about the impact any overly long sentence might have on her – financially and emotionally.
"I would ask the court to temper any sentence imposed, so that he can return to supporting his wife in a reasonable time."
Mr Adam added his client had suffered from anxiety and depression during the case, and would lose his job. He pointed out he been assessed as having only a "moderate risk of re-offending".
But Sheriff Pasportnikov branded McLean's offences "despicable" and said he had "robbed four children of their innocence" as she imposed the four-year jail term.
She added: "No sentence that I am able to impose can return that innocence to them."
She commended McLean's victims for "bravely" speaking out.
She told McLean: "Only you were to blame for the disgusting things that happened to these children, it was through no fault of theirs.
"These were despicable offences, and the abhorrent behaviour was carried out repeatedly over a period of more than 40 years.
"Statements obtained from the older victims show that the effect has been devastating to them, they made for distressing reading. I only hope
that all of the victims can take comfort from knowing that they were believed
and that you will be punished."
Speaking outside the court, one victim admitted that she felt "guilty" for not turning McLean in decades ago, and urged others who had been through similar ordeals not to hesitate in reporting their abusers.
She said: "I feel guilty that I never said anything 40 years ago, that could have stopped this from happening to other children.
"I can't help but feel he should have been given a longer sentence, but the main thing is that justice has been done for what happened to us."
McLean's Aberdeen-based employer, Prosafe Offshore Ltd, declined to comment last night.
Recommended for you

Writer digs deep to lift lid on offshore workers