Oil major BP is celebrating the start of production from Quad 204, one of the largest field redevelopments in North Sea history.
Operator BP and partners Shell and Siccar Point Energy expect the mega-project to deliver 450million barrels of oil equivalent (boe) from the Schiehallion and Loyal fields through to 2035 and beyond.
BP initially set a budget of £3billion for Quad 204 but later chose to invest an additional £1.4billion to widen the subsea work scope, a BP spokeswoman said.
More than £2billion worth of contracts, about 50% of the total, were awarded to the UK supply chain following project sanction in 2011.
A team of about 450 people across offshore and onshore locations will operate Quad 204, west of Shetland.
Start-up from Quad 204 − the third of seven major projects BP is bringing on stream worldwide in 2017 – also returns the company to growth in the North Sea.
BP plans to double its UK North Sea production to 200,000 boe per day by 2020 and "sustain a material business in the region for several decades".
The company expects first oil to flow from Clair Ridge, also west of Shetland, next year and has plans for up to five exploration wells in the UK over the coming 18 months.
The Schiehallion and Loyal fields produced first oil in 1998 and went on to pump out nearly 400million barrels of oil.
Output was suspended in 2013 to allow a major upgrade and replacement of subsea facilities to be carried out, while about 20 new wells were drilled.
Glen Lyon, the world's biggest harsh-water floating, production, storage and offloading (FPSO) vessel, was built by Hyundai Heavy Industries in South Korea to serve the fields.
Glen Lyon can process and export up to 130,000 barrels a day, store up to 800,000 barrels, and accommodate 140 people.
It replaced the Schiehallion FPSO, which was disconnected from the field.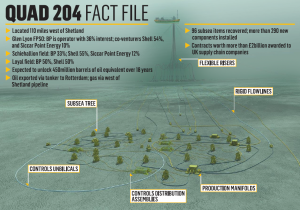 BP chief executive Bob Dudley said: "The start of production from Quad 204 – one of the largest recent investments in the UK – is an important milestone for BP, marking a return to growth for our North Sea business.
"As one of the series of important, higher-margin major projects that are now steadily coming on line for BP, it also underpins our expectation for growing production and cash flows from our upstream business over the coming few years."
Mark Thomas, BP's North Sea regional president, said: "In safely delivering first oil from the Quad 204 project, we have succeeded in one of the largest ever UK mid-life offshore redevelopments.
"BP has developed a strong track record of finding, developing and operating big offshore oil resources in west of Shetland – we have and will continue to use the latest technology to maximise recovery from the Schiehallion Area."
Steve Phimister, Shell's upstream vice president, UK & Ireland, congratulated BP for achieving first oil.
Mr Phimister said: "The project demonstrates what can be achieved through strong partnerships and is an example of how the UK industry can work together to help maximise economic recovery of the UK's oil and gas reserves.
"Today's announcement highlights Shell's ongoing commitment to the UKCS and as the largest equity participant in the development, we look forward to continuing to work with BP and Siccar Point Energy to safely maximise the production, value and benefits from this field."
Oil and Gas Authority chief executive Andy Samuel said: "We continue to view the west of Shetland as strategically important with significant remaining potential.
"It is through BP's use of seismic technology, the upgrade of subsea facilities and its sustained drilling programme that the life of the Schiehallion and Loyal fields will be maximised for years to come.
"The value of contracts awarded to UK companies highlights the strength of our supply chain and we welcome BP's ongoing commitment to maximising economic recovery from the UK continental shelf."
Oil & Gas UK chief executive Deirdre Michie said: "This is excellent news and another positive endorsement of the potential the UK continental shelf still offers with the right investment. It's also extremely heartening to see one of the original explorers of the basin using new, ambitious approaches and pioneering technology to help lead a revival in production.
"As well as being a welcome boost for the hard pressed supply chain, the announcement from BP and co-venturers Shell and Siccar Point Energy, proves that our faith in the long term health of the basin is well founded."
Recommended for you

Wood Mac: New UK licences need major discovery to 'whet Shell's appetite'