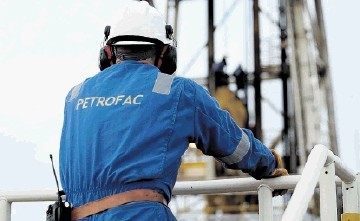 Oil services company Petrofac has suspended chief operating officer Marwan Chedid amid on ongoing company wide investigation into suspected "bribery, corruption and money laundering".
Independent government watchdog Serious Fraud Office (SFO) confirmed earlier this month that the firm, its subsidiaries, and their officers, employees and agents are now under investigation.
It is in connection with a historic probe into dealings at the Ahsani family run Unaoil.
Petrofac engaged Unaoil, a Monaco based company, for the provision of local consultancy services primarily in Kazakhstan between 2002 and 2009.
Chedid has already been questioned under caution by the SFO.
Petrofac announced today that he is suspended "until further notice" and has resigned from the board.
The company added: "These actions do not in any way seek to pre-judge the outcome of the SFO's investigation."
Chief executive Ayman Asfari has also been interviewed under caution.
Petrofac said he will continue in his role but he will not be involved in any matters connected to the investigation, and will have no role or responsibilities for engaging with or liaising with agents and consultants.
Instead a committee of the board has been established to be solely responsible for the company's engagement with the SFO and to oversee the company's response to their investigation.
The committee comprises the chairman, independent non-executive directors and the chief financial officer. A senior external specialist has also been brought in to help deal with the probe.
Chairman Rijnhard van Tets said: "These decisions signal the Board's determination to cooperate fully with the SFO and its investigation, whilst ensuring Petrofac continues to deliver for its clients."
In August last year Petrofac claimed an internal investigation into its board relating to historical provision of services by Unaoil found no wrongdoing of any director.
In a statement released at the time the firm said no evidence was found that directors were aware of alleged misconduct.
The investigation was carried out by Freshfields Bruckhaus Deringer with the support of forensic accountants from KPMG.
The findings were to be shared with the Serious Fraud Office (SFO) and other relevant authorities.
However it emerged today that the SFO has informed Petrofac that it does not accept those findings.
In a statement, Petrofac added: "The SFO has also informed Petrofac that it does not consider the company to have cooperated with it, as that term is used in relevant SFO and sentencing guidelines.
"It is for the SFO to determine the outcome of its investigation and any prosecutions in due course.
"The company is committed to cooperating with the SFO's investigation. The company is devoting very significant resources in its current engagement with the SFO."
Recommended for you

Court reverses conviction of Aberdeen man in Unaoil bribery case