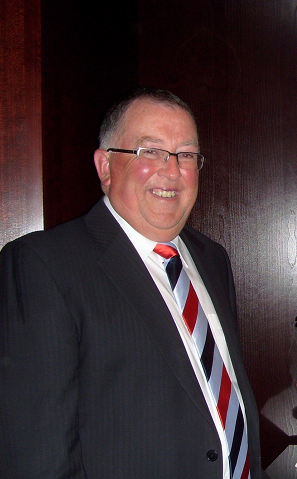 An energy magazine boss and charity champion who was "kind, helpful and a true friend" has died aged 67.
Dennis Davidson, owner and publisher of Roustabout Energy International magazine, leaves behind wife Gwen and daughters Wendy and Amanda. He also held a number of roles with civic, community and charitable organisations.
Peter Stephen, a former Lord Provost of Aberdeen and a close friend of Mr Davidson's, spoke warmly of his dedication to the community.
"Dennis was a true friend in every sense of the word and had a business knowledge built up over a long period. He was particularly helpful and supportive to me when I was Lord Provost.
"You could say that he was the kind of man who was always ready to reach out to help and be there for others whenever he was needed."
Born in October 1949, Mr Davidson grew up in Lyne of Skene. He was educated at the village primary school, then attended Inverurie Academy.
His early working life saw him take on the role of Higher Executive Officer with the local Department of Employment.
He met his future wife, Gwen, in Aberdeen at the age of 18. They married in 1970 and went on to raise two daughters, Wendy and Amanda. The two shared a love of curling, golf and travelling.
In September 1983 Mr Davidson took over Roustabout which, during its lifetime, covered many key events including the construction of Shell's landmark building in Tullos and a preview of the first Offshore International Exhibition at Olympia in London. A party held to celebrate the 100th issue became infamous in industry circles when the candles on the cake set off the sprinkler system at the Aberdeen Moat House Hotel.
Mr Davidson maintained a keen interest in activities in his local community of Westhill and its neighbouring city. He was both a deputy lord lieutenant and a Burgess of Guild of the City of Aberdeen. He was session clerk at St Mary's Church for over 30 years, where he was heavily involved in a campaign to raise funds for major renovation works. Mr Davidson was also a long-standing member of the Rotary Club of Aberdeen St Fittick and held the Club presidency from 2004-5.
He was a former Chairman of the Advisory Committee to the Lord Provost's Charitable Trust, an independent fund established to support registered Scottish charities operating within Aberdeen city. He also acted as an advisor for family support charity Home-Start Aberdeen, providing the scheme with guidance and helping it to develop and raise the profile of its work.
Despite suffering from on-going health difficulties in his latter years, Mr Davidson retained a keen interest in his charitable and community projects, regularly making contact with others from home to suggest ideas or check on progress. He was renowned for his wide network of connections and was at his happiest when making introducing people who could help each other.
Recommended for you

Oil boss completes 'ultra marathon' to raise money for Aberdeen charity