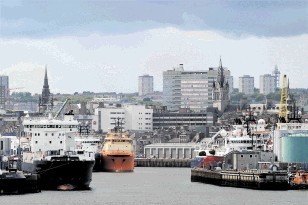 Business leaders from within and outside the oil and gas industry have warned there is still a long way to go before the sector – and the north-east economy in general – is out of the woods.
Jim Milne, chairman and managing director at Aberdeen-based Balmoral Group, said: "I'm pleased to see increased confidence in the UKCS (UK continental shelf), but I feel North Sea-focused companies may still have some pain to endure.
"There is deep uncertainty across all markets at the moment and the energy sector is no exception.
"We need to ensure the recent corrections in the industry remain pertinent and that all parts of the supply chain remain focused on working together to achieve maximum economic recovery from the basin."
He added: "With the correct approach and a willingness to adapt, I'm sure that companies serving the North Sea will see some stability in the market in the medium term."
Deirdre Michie, chief executive of industry body Oil and Gas UK, added: "It is heartening to see that, as the industry continues to tackle the downturn by focusing on improving its competitiveness, confidence in some companies is rising.
"This mood of cautious optimism was evident at our Oil and Gas Industry Conference, where we reinforced that it's our own actions that will play a key part in getting us through this lower-for-longer (oil price) reality, and we are seeing great examples of companies working differently to improve cost and efficiency."
Aberdeen hotels, restaurants and bars have suffered a severe knock-on impact in the prolonged oil and gas downturn.
Hospitality industry entrepreneur Adrian Gomes, owner of The Tippling House and Rye & Soda bar/restaurant businesses, as well as event catering cocktail business 10 Dollar Shake, said: "The downturn in the local economy has seen mixed fortunes for a lot of independent operators.
"Although there has been a direct negative impact on venues from corporate spend, some businesses have been more vested in the corporate market than others.
"Certain areas of our business, for example the event sector, have seen an increase compared to the last year.
"The most competitive area of the bar/restaurant trade in Aberdeen at the moment is food and with the continuing arrival of large national chains, independents can't afford to look at increasing confidence in the North Sea as a sign of good things to come."​
Recommended for you

Is a new global oil supercycle looming?