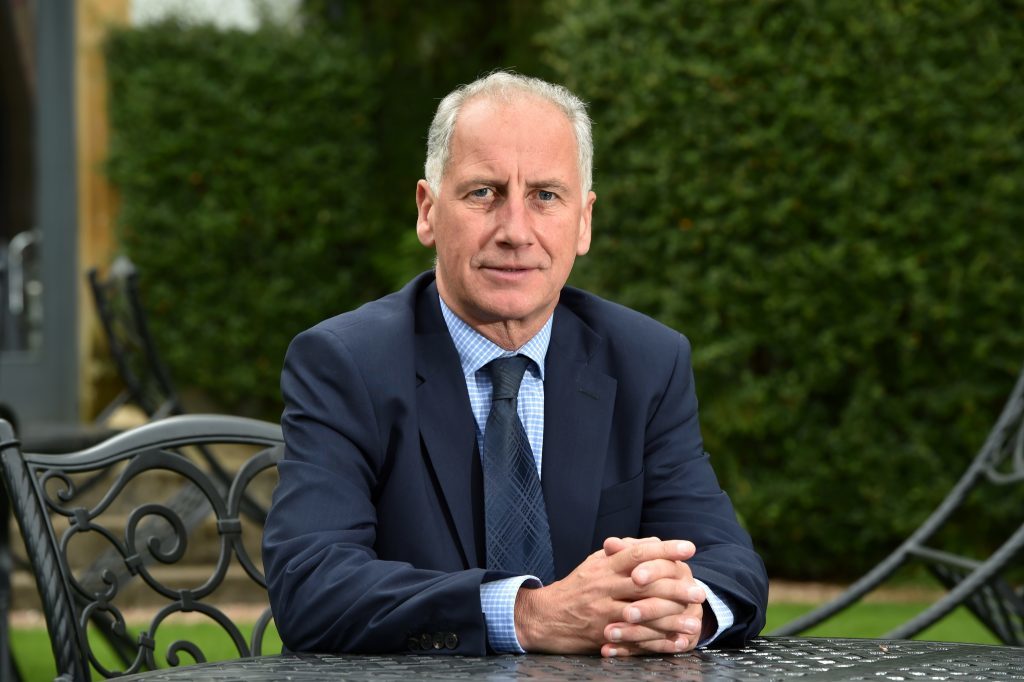 Former BP boss Trevor Garlick has made a triumphant return to the North Sea as oil chairman of an agency with its eyes set on the future.
The industry veteran, who retired after more than 30 years in the sector, has entered the energy arena once more this time as chairman of the Opportunity North-east (ONE) oil and gas board.
He takes over the leadership reigns from Sir Ian Wood, who has been courting Trevor for the role ever since the BP boss announced his plans for life outside the boardroom.
Trevor said: "Since I left people have made offers to me, but I also made it pretty clear to people, including Sir Ian, that I wanted to take a break. I had the huge privilege of working at BP in what must be one of the most interesting jobs in the North Sea. It was fantastic to have done that."
His job at BP spanned decades.
Fresh start
Trevor joined BP in Norway in 1985 and over the next 20 years held a number of roles in BP's UK and Norwegian upstream businesses.
When he left in January last year, oil was skimming $27 after a dramatic fall from over $110 in the space of months.
Since he left he has immersed himself in his community, including joining the local volunteer council and participating in a community energy scheme. He also used the time to travel and catch up on some much overdue ski-ing time. But instead of absconding himself from the hardships the North Sea faces, Trevor outlined the framework in which he would like to return.
It had to do two things – help him widen the scope beyond just the operator "top tier" and maintain a part-time role so he could continue to strike a balance.
"I wanted to do something that was broader. I did a lot of work from the operator's perspective and now I see what I am doing in ONE is about market development across the supply chain, not just the top tier of the supply chain but particularly supporting SMEs, business start-ups and business growth.
"ONE is different. It's local. It's regional. It's part of the regional renaissance."
But the challenge and environment it faces aren't any different to the ones he navigated as a homegrown North Sea operator.
"The difficulties of the past three years caused some pain in the large amounts of redundancies that occurred, and almost had to occur, but they also inspired people to think about how else they could work," he said.
"They've also made us think, particularly about what it is that we are really good at, and what we need to do to sustain the business here locally. Also, what do we think are our strengths and what are the additional things we can offer internationally?
"I'm impressed by companies that are thinking about what else can we do and how can we extend our supply chain into other sectors."
Role
That's where he sees his role developing in ONE, acting as a conduit and accelerator of growth and diversification of both markets and applications.
"I would hope that we could make a real difference to the local supply chain," he said.
"The first thing we must do is to play a role in extending the life in the North Sea and extending the life of the assets that we currently have. And the second is to generate more business that is effectively a world-class supply chain."
The board has narrowed its focus to tackle three things – skills, diversification of the economy and decommissioning, working closely with the University of Aberdeen and Robert Gordon University (RGU).
"We are working on a project to try to become a centre of global excellence for learning, particularly post-graduate learning, with theory being what we have an awful a lot to offer in this area," he said.
"We have been working with the two universities to come up with a joint offer.
"The idea is to take that and approach new international markets as one."
The ONE oil and gas board hopes to replicate that broad-participation, single-market approach for apprenticeships and training, and is currently canvassing companies to work with, according to Trevor, who is donating his time as chairman.
On diversification, Trevor is aiming for the "obvious" hits like marine and offshore wind. More than £450million has been spent across the UK wave and tidal supply chain to date and the global industry is forecast to be worth up to £76billion by 2050.
"But we are also looking at sectors beyond marine and renewables," he said.
"They are oil and gas offshoot sectors like decommissioning and carbon capture and storage. And down the line, I envision we will be looking at other engineering sectors like waste, water heating and possibly hydrogen."
ONE's projected investment in activity in the sector of £520,000 in 2017-18 is anticipated to leverage a further £640,000 of funding from partners.
Trevor added: "The extent to which we can maximise the North Sea oil and gas opportunity and anchor our successful supply chain in the region for the long term will be critical to the future prosperity of Aberdeen and Aberdeenshire.
"In the long term, we want to see this region established as a global centre of technology development with an innovative and competitive supply chain anchored here and working internationally across the whole energy spectrum. Building momentum now around programmes that support this ambition will pay dividends for future generations."
Expertise
The North Sea's greatest challenge can be repurposed into one of its strongest sells, according to Trevor.
"All of this experience in recent years, albeit some which is very tough, whether it be services or an innovative way of doing things, we can sell that. We can export that. Every oil producing basin in the world is going to reach the point where we're at – this late life difficult time. Of course, they are all reaching it when there will be some fairly low prices.
"We can be a centre of expertise for late life oil and gas field management, whether that's skills or technology or services. It's something we think we can take abroad."
It's a niche Trevor carved for himself in BP's North Sea operations, overseeing the redevelopment of Quad204 and Clair Ridge.
Schiehallion and the adjacent Loyal fields were first developed in the mid-1990s. With the fields' redevelopment through the Quad 204 project, BP and co-venturers expect to unlock a further estimated 450million barrels of resources, extending the life of the fields out to 2035 and beyond.
The project celebrated first oil in May. Clair Ridge is expected to unlock an additional 640million barrels of oil.
After managing each project through a string of hurdles, Trevor is watching the final milestones being achieved from the sideline.
"I'm trying not to badger them, but I'm obviously still interested. I was delighted to see Quad204 was on stream. It's an amazing project.
"I worked on that for many years with many others. In these projects there are always milestones along the way that keep you going, like the ship being launched, things put on station and all the wells being drilled.
"One of the great things about oil field projects, which take years, are that there are some magical moments along the way. I was there for some of them. I won't be there for all of them, but it's fantastic to see things get to completion.
"From my perspective, you realise how much effort has gone in to deliver that."
But for now he has much "broader" milestones to chase.
"I think we should be cautiously optimistic not just because there is a lot more to recover and we have realised that we need to be able to operate and run a business on $50 or even sub $50, but there is sense of working together more," he said.
"That culture seems to be taking over."
Recommended for you

Road to ADIPEC 4: sustainability and technology