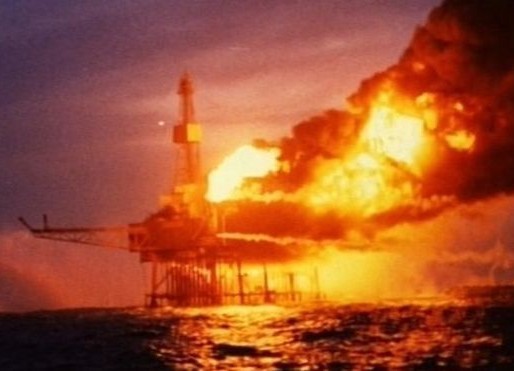 To mark the 29th anniversary of the Piper Alpha disaster, Energy Voice has republished the original editorial by the Press and Journal in the wake of the tragedy.
A nation was in mourning last night for the men who always work on the edge of disaster…but who never believe it will happen to them.
In an explosion of horror the Piper Alpha platform blew apart and the unthinkable became a reality.
A full causality list has yet to be issued, but the dead include rescuers whose small boat was blown out of the water as they sought to save others.
It is believed to be the world's worst oil disaster. It is certainly the North Sea's worst disaster.
It was a night and a day of tragedy, despair, tremendous courage and heroism, remarkable will to live, total nightmare…mere words only come close to giving an adequate description.
Those who lived through it will never forget. Those who have lost loved ones may never forgive.
Shattered survivors, many badly burned, were arriving at Aberdeen Royal Infirmary swathed in blankets and bandages, shock etched in their faces.
Grieving relatives clutching at the last vestiges of hope hugged each other as the tears flowed and flowed.
Hardened members of the rescue services admitted they had never seen anything like it.
Exhausted doctors and nurses worked for hours on end to help those who could be helped.
In was a terrible reminder of how frail the frontiers of technology remain, how the gift of offshore oil has been carved from an environment which has no compassion, and how your first mistake in the North Sea can be your last.
Veteran rigger Mr James McDonald (50), from Stirling, summed it up.
"It was as simple as this–you either stayed where you were
and burned to death or you tried to get out. I was one of the lucky ones."
As the tributes began pouring in yesterday and the prime minister prepared to arrive in the North-east today, the question was beginning to be asked–how could it happen? To that, there was no clear answer emerging, but gas – in another form so feared by coal miners – seems to be at the heart of the matter.
The Piper platform was installed in June 1975, 13 years ago. It was one of the oldest platforms operating in the North Sea.
But just 10 days ago it was given its annual check by a Department of Energy inspector and, say the department, was given a "clean bill of health".
So was it human error, a structural failure … or the hand of nature?
That will be up to the public inquiry to try to determine.
It is something which seems a long way away just now.
Physical and mental scars have to be healed, there are bodies to be recovered from the deep, many people to be consoled first.
At Aberdeen University, where new graduates were celebrating with their families they had a minute's silence in memory of the dead.
Chaplain, the Rev, Alan Reid told the gathering: "We remember those for whom this is a day of agony, uncertainty and pain."
It was the same at Occidental headquarters.
No-one in the North, North-east and the islands can have failed to have been touched by the immensity of the tragedy. Everyone cried a little yesterday.
Recommended for you
X

Statoil boss says Bressay project remains parked