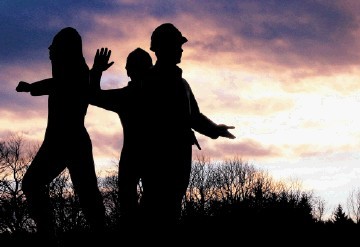 Offshore workers and their loved ones marked the 29th anniversary of the Piper Alpha disaster yesterday.
A total of 167 men died in what is considered the world's worst deadliest oil rig fire.
On the night of July 6, 1988, a complication with maintenance paperwork led to a gas leak on board the platform, 120 miles north-east of Aberdeen.
This led to a series of explosions which ripped through the platform.
The Occidental operated rig, soon became engulfed in a raging inferno with the flames lighting up the night sky like a false dawn.
Workers were forced to navigate the "rabbits warren" of corridors in a bid to make their escape.
Some brave souls opted to throw themselves down into the water with only a bleak hope of survival.
167 men died. 61 survived. 30 bodies were never recovered
By morning the story was being heard around the world, as rescue vessels surrounded the charred remains of the twisted metal of the platform.
The accident led to an inquiry by Lord Cullen and a subsequent radical overhaul of offshore safety culture.
Unite the union said this legacy still stands today nearly three decades later.
And Unite Scottish secretary, Pat Rafferty said cost cutting in recent years to combat a global price plunge made safety even more important to the offshore workforce.
He said: "Unite stands in silence today to remember the 167 lives that were lost this day 29 years ago on the Piper Alpha platform and for the families whose lives were ripped apart.
"We join with those that survived the tragedy and who live with the memory of that fateful day and of colleagues and friends lost.
"We also remember individual acts of courage."
He added: "This is a tragedy that could have been avoided. When costs become more important than safety, the result can be catastrophic.
"We will continue to remember those lost on Piper Alpha, they serve to remind us that corners must never be cut and that the job done by workers in the North Sea is one of the most dangerous around."
The anniversary was also marked at daily prayers at the Kirk of St Nicholas – the home of the 'Oil Chapel'.
Chaplain to the oil and gas industry, the Rev Gordon Craig, said: "As an industry we will never forget those who were lost on that terrible night, nor will we forget the terrible lessons learned, the horrendous cost of which is still being paid emotionally by all who were touched by the tragedy."
Recommended for you
X

Labour fuels North Sea row