A global helicopter safety body has called for technical data to be released in connection with the controversial lifting of a flight ban introduced after a fatal accident that killed 13 people.
The UK and Norwegian aviation watchdogs grounded the Super Puma H225 and AS332L2 following the crash off Norway last April.
But in an unexpected move, the ban was suddenly lifted on Friday, to much industry surprise.
The CAA said that manufacturer Airbus had made a number of improvements since the crash and that each helicopter operator would have to come up with a safety case in order to reintroduce the aircraft.
But Helioffshore says that without having all available data its members cannot determine whether or not a sound safety case can be made for returning the aircraft to service.
Technical experts from the safety body are now seeking access to all available data including that used by Airbus to support changes to the process for inspecting and replacing main rotor components.
As the UK and Norwegian authorities have acknowledged, the lifting of operating restrictions does not automatically clear the way to an immediate return to service for the Super Puma fleet.
Operators first have to prepare and validate a detailed safety case, including specific maintenance processes, tooling and training.
HeliOffshore chief executive Gretchen Haskins, said: "Our operators have to take account of the overall safety case including factors such as exactly how each aircraft is operated, where it will be flown, and maintenance requirements.
"There is a clear consensus among HeliOffshore operators that sharing information and working collectively to evaluate the key tenants of the safety case is will be the most effective way to fulfil our obligations to the safety of our passengers and crew.
"Any preparations for a possible return to service for the Super Pumas must be conducted in an extremely methodical manner, in line with our shared commitment to the highest standards of operational safety."
She added: "HeliOffshore is continuing to engage with all stakeholders to ensure that the most up-to-date information is available from a safety perspective to ensure they can make the appropriate safety decisions subject to their operational accountability requirements."
"We work collaboratively with all stakeholders in pursuit of our shared goal of eliminating accidents and ensuring safety for the passengers and crew who travel to work offshore."
Recommended for you
X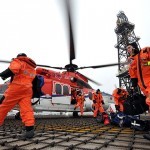 Report: Could Super Puma return to North Sea skies?