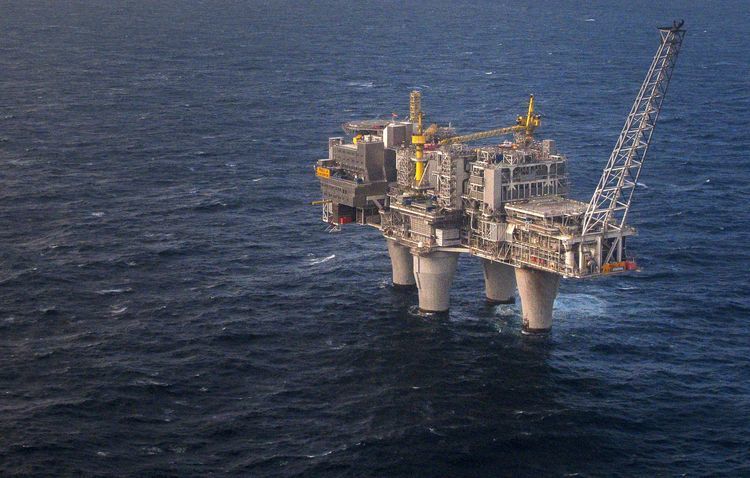 Norway is turning on the taps at Europe's biggest offshore gas field at just the right time for Britain.
Output from Troll will increase to a record this year after the government raised a production cap, and it could pump even more, according to Stavanger-based operator Statoil ASA. That should help exports from Norway, the UK's biggest foreign supplier, remain near record-high levels.
That comes as demand for gas across Europe, and particularly in the UK, picks up in power generation, while supplies from elsewhere in the North Sea and the Netherlands decline and the closure of Centrica Plc's Rough gas storage site means Britain will be more dependent than ever on imports in winter. The Troll increase wasn't in response to higher demand but came after a government evaluation that oil production wouldn't be affected, according to Statoil.
"They are gently and carefully opening the valve for Troll," Tor Martin Anfinnsen, senior vice president for marketing and trading at Statoil, said Wednesday in a telephone interview. "There is higher demand in particular from the UK now but that doesn't affect how much we produce in total, it more affects where we route the gas."
UK plans to phase out coal, together with a carbon price floor that discourages dirtier-burning fuels, boosted gas demand for power generation last year, the International Energy Agency said Thursday. Germany, the Netherlands, France, Spain and Italy also increased usage.
Troll alone produces enough gas to meet about 40 percent of the UK's annual demand. Fuel from the field, also Norway's biggest source of oil, is processed at the Kollsnes plant on an island near Bergen for distribution to European nations including the UK, Germany, France and Belgium.
Troll, which began producing gas in 1996, holds 48 percent of Norway's remaining gas reserves and produced 31.86 billion cubic meters in 2016, 27 percent of the nation's total. Norway's state-owned Petoro AS owns most of the field with Statoil, Royal Dutch Shell Plc, Total SA and ConocoPhillips holding minority stakes.
The field contributed to push Norway's total gas output to a record 117 billion cubic meters in 2015 and 2016. Thanks to cost cuts and efficiency measures forced on producers by the collapse of oil prices starting in 2014, output beat the Norwegian Petroleum Directorate's forecasts those two years, as well as in each of the six first months of this year.
Statoil, Norway's biggest energy producer, expects the country's gas production and export levels to remain close to last year's levels, Anfinnsen said. Troll's production permit was increased by 10 percent for the gas year from Oct. 1, 2016, and will be followed by a further increase of 9 percent in the next gas year.
Norwegian exports to the UK in the first half of 2017 were about 8 percent higher than in the same period of last year, according to data from gas system operator Gassco AS. The Nordic nation is Europe's biggest supplier of gas after Russia.
Technically, there are no restrictions to increasing output. After compressor trouble affected Troll's production in 2013 and 2014, the installation of two new units on the Troll A platform revived the field's capacity in 2015. And there is room to further increase production at Troll, which is flexible and can be moved to later years if needed, Anfinnsen said.
"Over the years the annual permit has started to creep towards the technical maximum but it is not there yet," he said.