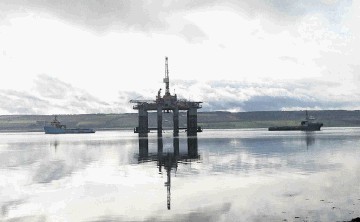 Drilling started today on Azinor Catalyst's Partridge prospect in the North Sea.
The Ocean Guardian semi-submersible rig is carrying out the drilling campaign, which is expected to last about 30 days.
Partridge, which is wholly-owned by Azinor, is thought to contain up to 260million barrels of oil equivalent.
Once the rig is finished on Partridge, it will move on to drill a second well which will appraise the Agar Discovery and includes a sidetrack to test the Plantain Prospect.
Azinor managing director Nick Terrell said: "This is an extremely exciting time for Azinor Catalyst as we commence our operated drilling campaign this summer. The high impact Partridge well is our first operated exploration well and a significant milestone for the company.
"Our focus is now on delivering a safe and efficient operation, working closely with our drilling and service contractors. Once our Partridge well has been completed, we hope to move the Ocean Guardian drilling rig to our Agar discovery where an appraisal well is planned to delineate this high potential accumulation".
"Both of these wells and plays have huge prospectivity and we look forward to providing further updates on operations in due course."
Recommended for you

Despite Wassana challenge, Valeura stockpiles cash for growth