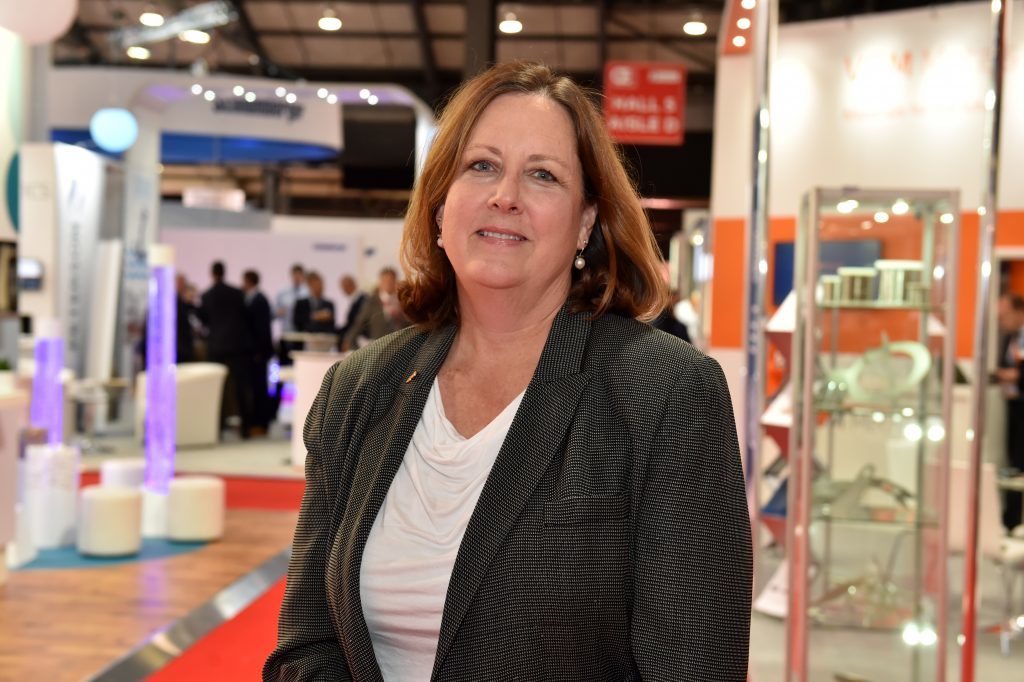 Aberdeen is still the "unchallenged" number two to the US city of Houston in global oil and gas markets despite recent woes, a visiting industry chief said yesterday.
Janeen Judah, president of the Society of Petroleum Engineers (SPE) was speaking on the second day of the SPE Offshore Europe oil and gas show.
Asked about the prospects for the UK North Sea following the severe oil and gas downturn, she said: "Obviously it is a mature basin but there are still opportunities if they can get the cost structure to work in the current price environment.
"There is a lot of innovation coming out of the UK and a lot of that is centred here in Aberdeen.
"There is also still a large employment base here … you run into Scottish guys in oil and gas producing areas all over the world.
"Globally, Aberdeen is still the number two oil city after Houston; that's unchallenged."
Ms Judah, who spends much of her life travelling but calls Houston home, is paying her first visit to the biennial OE event.
She has been in Aberdeen many times, however, in both good and bad phases of the industry cycle, and detects a more upbeat mood in the Granite City these days.
She said: "If you were to contrast now with two years ago, the industry was still in freefall back then.
"People really didn't know how bad it was going to get. There were a lot of layoffs, particularly in the service sector and everyone was very much in crisis mode.
"While the layoffs have now stabilised, many businesses have not recovered yet."
These circumstances are far from unique to the home of OE as the industry globally tries to get back on its feet, she said, adding: "There's not a lot of people buying yet but there is a lot of interest in new technology and innovation."
What is "unique" to the UK North Sea is the level of co-operation that exists between industry and government as everyone works towards the shared goal of maximum economic recovery, she said.
She added: "Everybody is seeking a win-win solution and being very progressive about trying to maintain the industry for as long as possible; and maintain the life of the oilfields.
"There is also considerable brain power, through the universities, helping to push the industry and government to great things.
"If it can be done anywhere, it can be done here in the North Sea. There are people around the world looking at the UK as a test bed, as an innovative country trying to make things work.
"It is the first area, for example, where there will be super large-scale decommissioning.
"The UK will definitely become a model for others to follow."
Just a day after First Minister Nicola Sturgeon announced a Scottish ban on the sale of new petrol and diesel cars from 2032, eight years ahead of the rest of the UK, Ms Judah said change would, ultimately, be led by the market.
But it was "a little short-sighted" to be talking about outlawing petrol and diesel vehicles until electric battery technology was capable of powering all types of vehicle, including heavy trucks, she said.
Turning to the topic of gender inequalities in oil and gas, she said the industry was not alone in having a dearth of women at the higher echelons.
She added: "I don't think we are much harder on women than any other industry. It's a societal problem."
Organisations of many kinds have a "culture" of gender iniquality at the top, she said, adding the best way to tackle it was to make bosses accountable in the same way oil and gas chiefs paid more attention to safety in the wake of the Piper Alpha and Exxon Valdez disasters.
Ms Judah recently published a paper on achieving gender balance. In it, she said: "I am the fourth woman SPE president, but it has been 11 years since the last one – making me the only female president of this generation.
"I can't think of any profession that isn't male-dominated, except perhaps nurses, teachers, and social workers.
"Most workplaces are predominantly male, so women must learn to work within that environment. Women in the oil industry must be at least as and usually more competent than their male colleagues.
"To succeed or even just survive, we must learn to speak "their language" and act in a more male way."