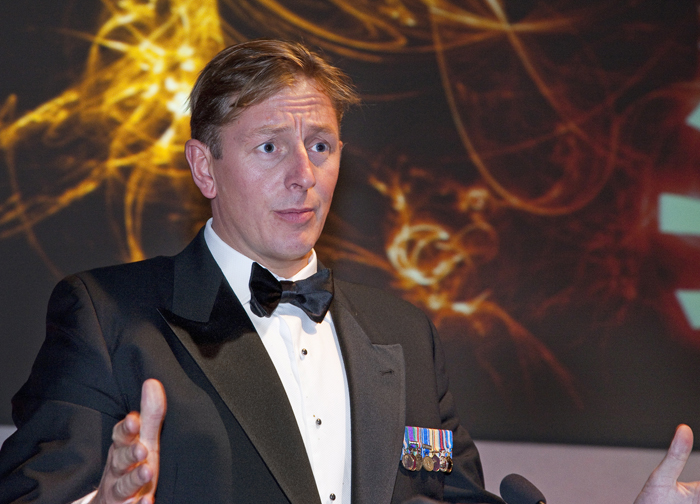 A military explosives expert has said that the suspected depth charge found near a North Sea oil platform has the same explosive power as a car bomb.
Major Chris Hunter, author and former British Army bomb disposal officer, also warned that subsurface munitions with degraded fuses can detonate "at the slightest movement".
"It's very rare but it can happen," said Major Hunter, who has experience of maritime and counter-terrorism operations.
The device was discovered about 100metres from CNR International's Ninian Central platform, which had 196 staff members on board earlier this week.
It was said to be "consistent" with a depth charge with a potential explosive load of 130-150kg of TNT.
In a leaked assessment, specialists said the device would not pose a hazard unless impacted and that the risk of self-detonation was "remote".
The blast radius is not thought to be wide enough to damage the platform but the device is located near some subsea infrastructure.
A CNR spokesman said a specialist company had classed the device as "safe" and that it posed "no risk to personnel or the environment".
An exclusion zone has been set up around the bomb and disposal plans are being put in place.
Major Hunter said all bomb disposal operations had the same priorities − to preserve life and property and return conditions to normal as soon as possible.
He said depth charges were "designed to explode without coming into contact" with their target.
Explosions underwater create "huge bubbles" which displace the water, he said.
The result is a wall of compressed sea water which can smash into a target, usually a submarine, causing critical failure.
Major Hunter said: "If the depth charge was to detonate and the bubble travelled towards the offshore energy installation and smashed against the platform then that could cause potentially critical failure, which obviously would be catastrophic."
Major Hunter said there could be significant "consequences to human life", as well as economic disadvantages from loss of production, evacuating workers and repairs.
He said bomb disposal specialists would be weighing up a number of options for removing the depth charge.
"Detonating the device in place is the quickest method, but that is probably going to be one of the least favourable options, given the proximity of the device to the platform and secondary hazards," he said.
"So the preferred option, and this is very much second guessing, would be to move it to another location using some sort of flotation device.
"They would raise it to the surface and then take it somewhere safe. Once there, they'll stop any shipping or overhead flights and they'll blow it up.
"If that looks too risky then they can look at other technical methods to render the device safe.
"That means things like physically removing any fusing mechanisms using charges to melt or burn out the main explosive charge.
He added: "They've really got to do a full survey on it − look at its position, determine whether it's safe to move, weigh up all the factors regarding any secondary hazards and any impact it can cause the platform and people on board."