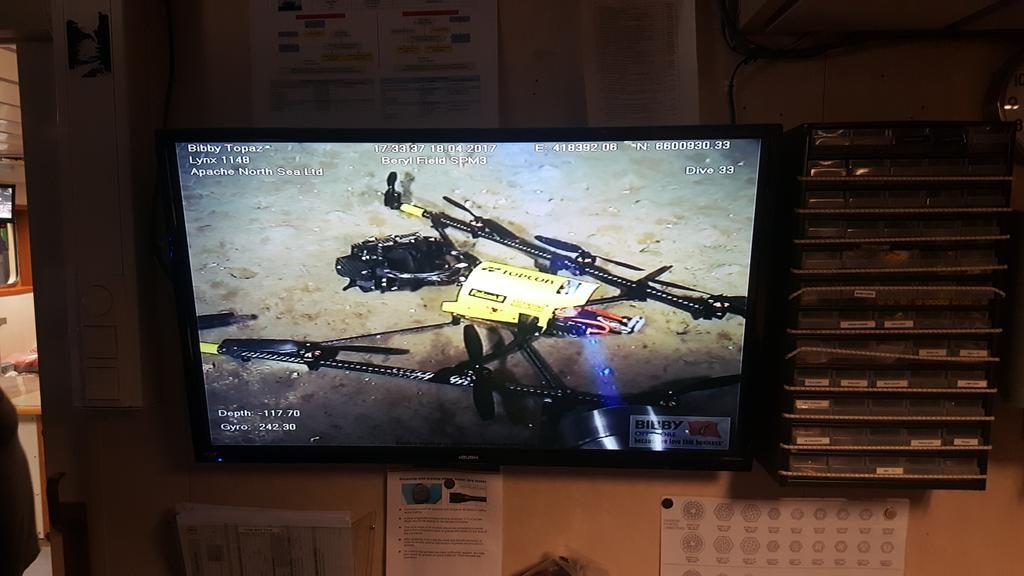 The mystery of how an aerial drone ended up in the North Sea has been solved.
Energy Voice revealed a picture back in April taken from a subsea remotely operated vehicle (ROV) showing the Falcon 8 drone sitting 100 metres below the surface at the Beryl field.
The image surfaced online and was thought to have been taken by an Apache staff member on the offshore support vessel Bibby Topaz.
Now the incident has been investigated by the Air Accidents Investigation Branch (AAIB).
The investigation found that the drone went out of control and crashed into the sea on April 17.
It was being operated from a ship in the North Sea to carry out inspection work.
The Topcon Falcon 8 model Unmanned Aerial System was 30 metres out from the ship and at a height of 20m when the pilot lost control of the device.
It entered a 'come home high' mode after the link between the 27-year-old pilot and the device failed, according to the AAIB.
The AAIB report said: "The pilot attempted to regain control by switching first to height mode and then to manual mode, but the UAV remained uncontrollable and descended into the sea.
"The UAV floated for a few seconds before sinking, although the operator was able to recover it back to the ship."
Tests by the manufacturer failed to identify any faults with the system.
According to the makers, the Falcon 8 is designed for inspection and monitoring, as well as survey and mapping applications.
According to the AAIB, the nature of the damage was due to being "submerged in sea water".
Recommended for you

Speedy opens new Aberdeen base to support North Sea market