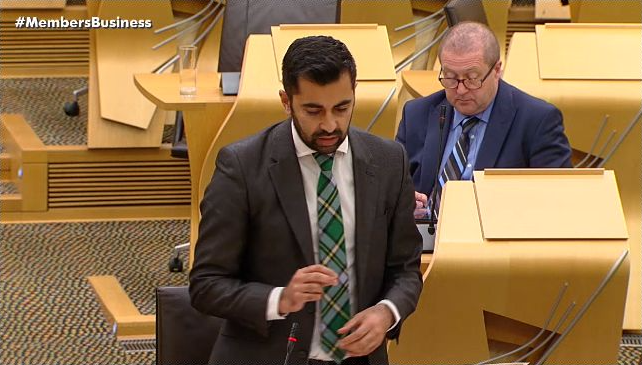 Scotland's transport minister has said it is "critical" for confidence to be restored in controversial offshore helicopters before North Sea workers are asked to step back aboard.
Humza Yousaf made the comments last night as pressure mounts for an independent public inquiry into a string of accidents that have left 33 people dead and in which 60 had to be rescued.
Mr Yousaf was speaking at a cross-party debate in Holyrood to discuss the concerns of offshore workers who may have to fly once again in the Super Puma aircraft manufactured by Airbus.
The helicopter maker has faced a public backlash after the UK-based Civil Aviation Authority (CAA) watchdog lifted a flight ban on the Superpuma H225 and AS332L2 helicopters back in July.
The aircraft had been grounded following a fatal crash involving a H225 in Norway in April last year that killed 13 people including Iain Stuart from Laurencekirk.
Two other crashes, one in 2009 off Peterhead and one off Shetland in 2013, killed a total of 20 people including Sarah Darnley from Elgin – the first female to be killed in a North Sea disaster.
A recent survey by Airbus found that 62% of respondents would be unlikely to fly in a Super Puma helicopter ever again, given a choice.
The aircraft have been subject to a safety overhaul in light of the Norway tragedy but a definitive root cause for the crash has still not been identified.
Unions want an independent inquiry into offshore helicopter safety.
And the call was backed by several MSPs from across the political spectrum last night after north-east Labour MSP Lewis Macdonald tabled a members business motion to bring the debate into parliament.
Mr Yousaf said he was happy to meet with those expressing a desire for an independent inquiry to hear them out.
But he also pointed out that the lifting flight restrictions was down to aviation regulators, not the Scottish Government, and urged the air watchdogs to listen to the workforce.
He told the chamber during the debate: "There are very few professions whereby the travel to that place of work is so hazardous.
"The lifting of these restrictions on the Super Puma has raised concerns with the industry. The unions are clearly putting across the concerns of the workforce.
"Airbus have a lot of work to do to rebuild that confidence and trust, not only with unions, but the operators as well.
Jake Molloy, RMT regional organiser, said the "message seems to be getting through" following last night's debate.
He added:"The experts and aviation engineers have had their say but the most important people are the workers.
"Trust will need to be earned. I doubt whether trust in Super Pumas can ever be recovered, but it should be for workers to decide [whether Super Pumas return to service]."
"At this time, any decision to bring Super Pumas back would be made for commercial reasons, nothing other than that. It certainly would not be on the grounds of safety.
"If we're genuinely going to build up trust every aspect should be looked at and if the workforce says no, then it's a no."
Mr Macdonald said he would be taking up Mr Yousaf's offer to meet with concerned parties.
He said: "Only by putting the workforce at the centre can we have the oil and gas industry we need, operating to the standards which those who work in it deserve."
A spokesman for Airbus welcomed the "open and informed discussion".
He added: "While global and national independent authorities have lifted all H225 flight restrictions based on new safety measures, Airbus Helicopters understands the importance of restoring confidence in the aircraft ahead of any return to service.
"We are now at the beginning of a process of informing the workforce and wider community of the updates‎ to the aircraft."