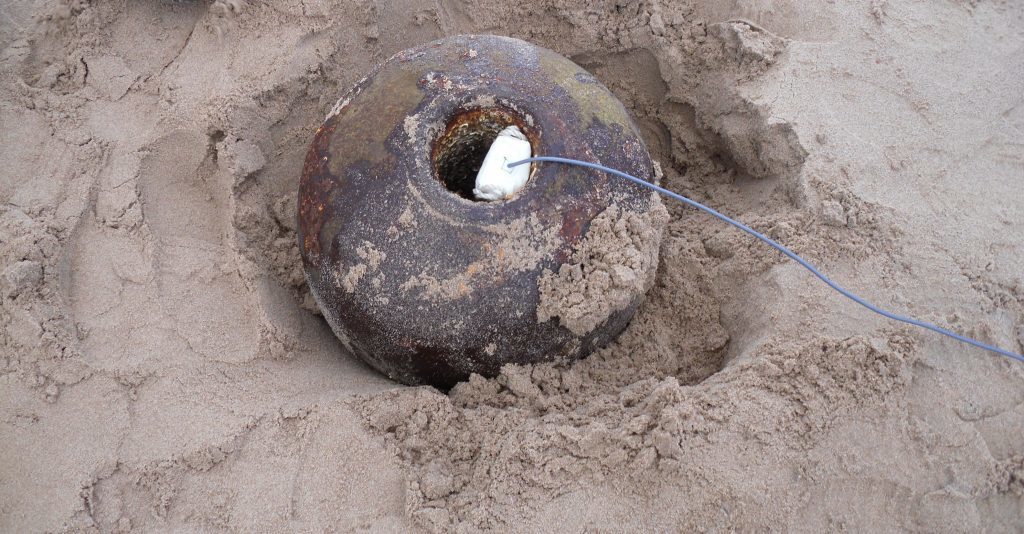 A Royal Navy minehunter has destroyed a 500lb wartime bomb which was dredged up by a fishing boat and then dropped "dangerously close" to a major North Sea gas pipeline.
A Dutch trawlerman had hauled the device, dropped by German bombers in the Second World War, onto the deck of his vessel after it was caught in its fishing nets.
He then lowered the bomb down on to the sea bed for safety.
But when navy divers aboard Portsmouth-based minehunter HMS Cattistock arrived at the location 50 miles off the Norfolk coast, they realised it had landed 60 metres from the gas pipe.
A navy spokesman said: "HMS Cattistock and a team of expert Royal Navy divers raced to location 50 miles off the coast of Norfolk after a Dutch trawlerman hauled the air-dropped Second World
War device onto the deck of his vessel caught in fishing nets.
"The trawlerman gently lowered the device back down to the sea bed before reporting his discovery to authorities but the bomb landed dangerously close to a major North Sea gas pipe.
"On arrival, the Royal Navy divers lifted the device from the sea bed, towed it for one mile, and then detonated it with an explosive charge.
"Fortunately due to its age, the bomb was discovered to be inert and no longer a threat."
Petty Officer (Diver) Lee O'Sullivan, from the Southern Diving Unit 2, added: "The proximity of the bomb to the gas pipeline clearly presented a significant risk but we were able to deal with the situation quickly.
"We safely removed the bomb from the pipeline area, and then carried out a controlled demolition. Fortunately the bomb turned out to be inert, meaning it wouldn't have posed a danger but there was no way of knowing this until we destroyed it."