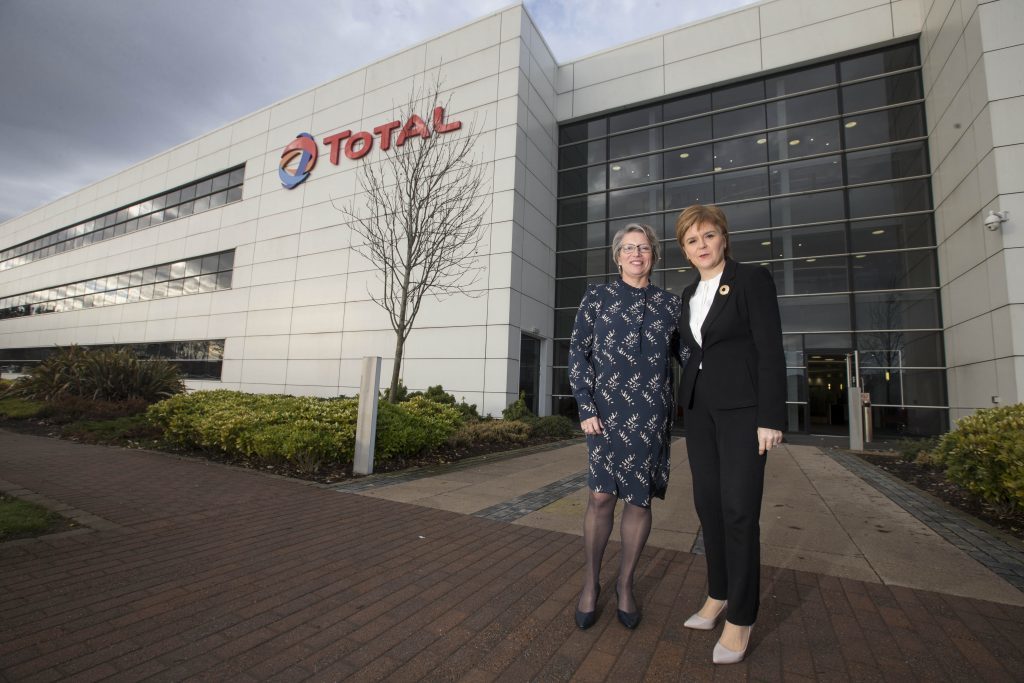 Total E&P UK's boss said today that the oil firm had "exciting years" ahead of it in the North Sea after switching offices in the north-east.
Managing director Elisabeth Proust said the change of scenery would create the right working environment for employees.
First Minister Nicola Sturgeon attended the official the opening of the office in Westhill, Aberdeenshire.
About 800 onshore workers employed by Total in Aberdeen have made the move to Subsea 7's old west campus building.
They were previously based in Crawpeel Road, Altens, Aberdeen.
Now called Total House, the offices in Westhill were refurbished by Bancon Construction and designed by Covell Matthews Architects.
Ms Proust said: "Our focus is on the future and I'm delighted that the first minister is here today to celebrate with us.
"Total has exciting years ahead of it in Aberdeen and the North Sea and we needed to make sure we had the right office and the right work environment to support that.
"This new office provides light open work spaces with technology to help bring people together to share new ideas.
"2017 has already been a successful year for us; Total E&P UK completed the Edradour-Glenlivet project west of Shetland early and under budget."
Ms Sturgeon said: "This is a fantastic new facility which gives Total a modern, fit-for-purpose base for its operations in Aberdeen. It is a signal that the company is committed to a long-term future in Scotland.
"While we realise these are challenging times for the industry and workforce, this investment and expansion from Total is a real vote of confidence in the North Sea's future.
"Our Programme for Government reinforced our commitment to the sector, clearly stating that harnessing the resources of the North Sea will be vital to the Scottish economy for decades to come.
"We remain committed to maintaining domestic oil and gas production and maximising economic recovery from the oil and gas fields in the North Sea, and working with firms like Total, who have a key role to play in this, to support Scotland's mixed energy sector and prepare it for a positive future."
Recommended for you

Rallying call as industry warns that 20% of UK subsea capability lost