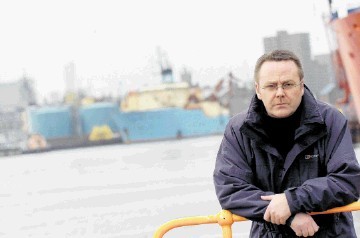 The decision to send a group of oil workers ashore after they refused to get into lifeboats on a rig is "outrageous", a union boss has said.
RMT regional organiser Jake Molloy said the measure "sent out all the wrong messages" to workers across the North Sea.
Offshore accommodation provider Prosafe said yesterday that 14 workers were being removed from the Mariner field "for not taking part in an emergency drill".
The workers were on board Prosafe's Safe Boreas flotel, which is currently stationed at the Statoil-operated Mariner field east of Shetland.
An offshore worker claimed a number of people had raised concerns about the lifeboats on Safe Boreas and had refused to board them during muster.
A spokeswoman for Oslo-listed Prosafe said all the lifeboats were checked at regular intervals and that all safety equipment was in place.
Mr Molloy claimed the workers had asked a "reasonable question" about checks being done on the lifeboats after the recent storm − and that the coxswain had been unable to confirm whether or not they had.
Mr Molloy's understanding is that the workers were then told to report to the administration office to discuss the matter. The decision was taken to remove them from the installation.
He said: "This is an outrage. No matter what happened, the action to have these workers removed from the installation in this manner has no place in the today's industry.
"This is completely contrary to everything the industry advocates in terms of workforce engagement in health and safety matters.
"Every worker is told to "stop the job" to challenge any act which gives cause for concern, to challenge the norm.
"These workers have done this reasonably and are now facing removal for doing so."
Mr Molloy said weather conditions prevented the workers from returning to shore yesterday, but that they are still expected to be taken off.
Mr Molloy added: "This should be stopped now, it sends out all the wrong messages to workers on this project and across the North Sea."
Recommended for you

North Sea union boss predicts 'national strike' across oil and gas industry