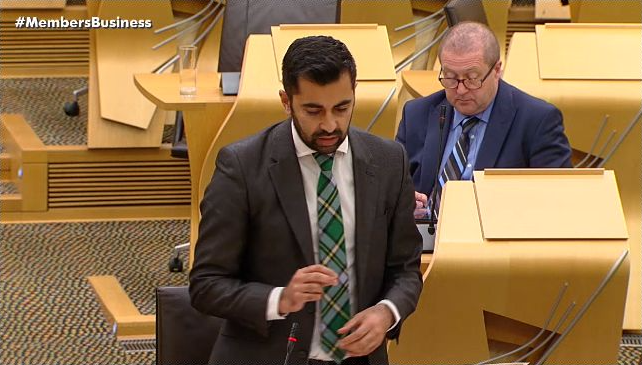 Scotland's transport minister has yet to decide whether to support calls for an independent public inquiry into North Sea helicopter safety.
Minister Humza Yousaf met a delegation of trade union representatives today in Edinburgh to listen to their fears about offshore transport.
North-east Labour MSP Lewis Macdonald, who also attended, said the Scottish Government had not yet made its position known, but that the dialogue was still open.
Mr Macdonald said: "The Scottish Government has not dismissed the possibility of a public inquiry, but they haven't got behind it yet either. They are happy to continue the dialogue."
A follow-up meeting is expected to be held next year.
A public inquiry would require the backing of the UK Government, but unions are hopeful that support from the Scottish Government would strengthen their case.
In 2014, the transport select committee at Westminster got behind demands for a probe into helicopter safety, only for the UK Government to turn them down.
Mr Macdonald said yesterday: "We want to convince the Scottish Government that the best way forward is to have an independent public inquiry.
"Then it can be about the whole sector, not just technical issues."
Mr Macdonald tabled a motion to hold a debate on helicopter safety in the Scottish Parliament in October, during which several MSPs supported calls for an inquiry.
Several months earlier, aviation authorities in the UK and Norway lifted a flight ban on Super Puma helicopters, though certain modifications must be made before the aircraft can return to service.
North Sea industry has not used Super Pumas since one of the aircraft crashed in Norway in April 2016, killing 13 people, including Iain Stuart from Laurencekirk.
A Transport Scotland spokesman said: "The health and safety of oil and gas workers in the North Sea is of paramount importance to the Scottish Government and the transport minister had an informative and constructive meeting with union representatives, where he heard their views directly on helicopter safety.
"Whilst the regulation of aviation safety is a reserved matter for the UK Government, it's important all stakeholders work together to ensure the workforce have confidence that every effort is being made to keep them safe when travelling to and from offshore facilities."
The decision to reintroduce Super Pumas to North Sea operations is a commercial matter for helicopter operators.
But the Unite trade union has said many major oil companies have already provided assurances that they won't put their workers in the aircraft.
Unite regional officer Tommy Campbell said the meeting was "helpful and informative" and that Mr Yousaf had listened to workers' concerns.
Mr Campbell said both sides intended to meet again in the New Year to "follow up on some of the points made".
He added: "We are quite satisfied that helicopter safety is being taken seriously by the Scottish Government."
Recommended for you

Equinor UK boss warns North Sea investment at 'all-time low'