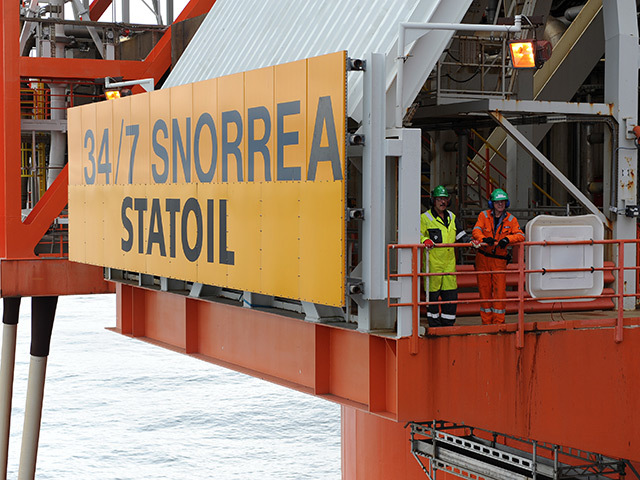 Statoil today committed to a 25-year investment on the North Sea's Snorre Field.
The Norwegian operator submitted plans for development and operation (PDO) of the Snorre Expansion Project. The field was originally expected to last until 2011. Under Statoil's strategy it will continue to produce beyond 2040.
The firm also confirmed plans to award $1billion worth of contracts as part of the project.
This fresh investment in the Snorre field will see a recovery in the project by up to 200 million barrels.
Margareth Øvrum, executive vice president for Technology, Projects and Drilling, said: "Snorre Expansion has been a marginal project, and Statoil has worked closely with partners and suppliers to realise it. We have finally arrived at a good concept utilising existing infrastructure and reducing costs.
"In 2017, we have benefitted from a comprehensive improvement effort by Statoil and suppliers, and we have succeeded in realising development plans for Njord, Bauge, Johan Castberg and now Snorre Expansion, leading to investments of NOK 90 billion on the Norwegian continental shelf (NCS) and important activity for the industry."
Statoil have identified the Snorre field as part of their effort to increase longer-term value and activity within the NCS.
Today, the Norwegian firm submitted its plan for development and operation (PDO) for the exampsion project.
Arne Sigve Nylund, Statoil's executive vice president for Development and Production Norway, said: "Long-term activity and value creation on the NCS is central in our strategy. Snorre Expansion is the largest improved oil recovery project (IOR) on the NCS, and provides valuable production and activity benefitting the company, partners and society. Investment costs slightly exceed NOK 19 billion, and the PDO involves a comprehensive subsea development, upgrading of the Snorre A installation, increased gas injection and gas import for injection."
Alongside this announcement, Statoil will also sign contracts for the subsea production system with TechnipFMC, fabrication and installation of the pipeline bundle system with Subsea 7, modification work on Snorre A with Aibel and a rig with Transocean. All contracts are subject to final approval of the PDO by Norwegian authorities.
Margareth Øvrum added: "During the past years, Norwegian suppliers have demonstrated both a will and ability to change. Due to enhanced competitiveness, Norwegian industry plays a key role also in the Snorre Expansion project. We estimate that 80 percent of the investments will include companies in Norway.  Competitiveness has a short shelf-life however, and it is vital that the improvement work continues with unabated strength."
Partners in the Snorre field are: Statoil Petroleum AS (33.27%), Petoro AS (30%), ExxonMobil Exploration and Production Norway AS (17.44%), Idemitsu Petroleum Norge AS (9.6%), DEA Norge AS (8.57%) and Point Resources AS (1.1%).
Snorre Expansion plans to start production in 2021.
Recommended for you

Equinor's Trollvind project was born out of power necessity