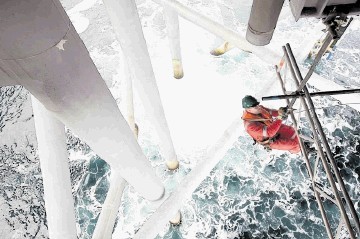 The Unite trade union said yesterday it would ballot members on industrial action over a dispute about training for offshore scaffolders.
The union has become embroiled in a dispute with the Offshore Contractor's Association (OCA) and Bilfinger Salamis over payments for a new mandatory training scheme.
In July last year, a two-day continuous professional development (CPD) training course was introduced for scaffolders by the Construction Industry Scaffolders Record Scheme (CISRS), following calls by the Health and Safety Executive to improve training and safety.
The CPD course is a requirement for Scaffolder and Advanced Scaffolder CISRS card renewal.
Prices for the course vary, but the CISRS say it can cost around £250-£350 + VAT.
Unite is in dispute with firms who they say refuse to cover the price of the training, arguing it is mandatory for those seeking employment in the field.
Unite regional officer Tommy Campbell said: "We want to persuade the employers that we are registered with that it is in the best interests of all to pay for these costs.
"If that remains to be the case that they refuse to pay, then we are looking at balloting our members in the coming months."
A spokeswoman for Bilfinger Salamis said: "Bilfinger are fully committed to the health, safety and welfare of all their employees and operate to the highest standards that in many cases exceed the general requirements of many industry bodies.
"However we do not wish to comment further at this time whilst discussions are ongoing with CISRS."
The OCA declined to comment but it is understood a meeting will be held between the OCA and CISRS in the coming weeks.