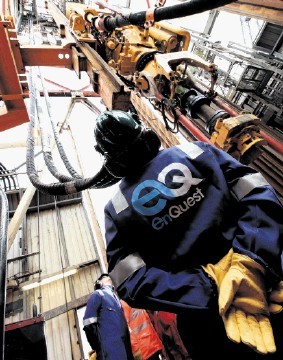 Enquest this morning confirmed it has struck a $50million deal with BP to absorb the decommissioning management of two of the oil major's North Sea fields.
Enquest will be responsible for the physical decommissioning activities for Thistle and Deveron.
BP has a 1% interest in the fields. Enquest assumed operatorship of the fields in 2010 but the abandonment liabilities remained with BP and ConocoPhillips.
The innovative deal comes after the pair agreed Enquest would acquire a 25% interest in BP's Magnus oil field with an option for the the remaining 75%. The outline for the possible decommissioning takeover was outlined as part of that deal in January 2017, but Enquest waited a year to act.
Under the new deal, EnQuest will receive $30million in cash in exchange for undertaking the management of the physical decommissioning and making payments by reference to 3.7% of the gross decommissioning costs of the Thistle and Deveron fields when spend commences, subject to a cap of £57million. EnQuest's current estimate of its exposure to decommissioning costs is lower than the $30million cash being received.
EnQuest will also have an option, exercisable over a 12 month period, to receive a further $20million in cash in exchange for making additional payments by reference to 2.4% of the gross decommissioning costs of these fields, subject to a cap of £42million.
An Enquest spokesperson said: "The transaction aligns the interests of the parties involved in the production and decommissioning phases, reflecting the industrial logic for the operator to undertake the decommissioning of these assets."
It's thought the deal could provide the blueprint for how decommissioning liabilities could be transferred from oil majors in the basin to smaller, nimbler independents.
Thistle was discovered in September 1972 by Signal Oil and Gas Company and located 125 nautical miles Northeast of Sumburgh, Shetland Islands and 275 nautical miles Northeast of Aberdeen, Scotland.
Production peaked at 130,000 barrels per day in the early 1980s before falling to a low of about 3,750 barrels per day in 2008. Thistle's 2015 oil production of 3.3MMBls was the highest since 1997
The Deveron field was discovered in 1972. Oil production from the Deveron field started in 1984: the field has been developed using five deviated wells drilled from the Thistle installation.
Meanwhile, BP today confirmed plans to double North Sea output. Read more here.
Recommended for you

North Sea strikes: 'Wildcat action is in no one's interest' says trade body