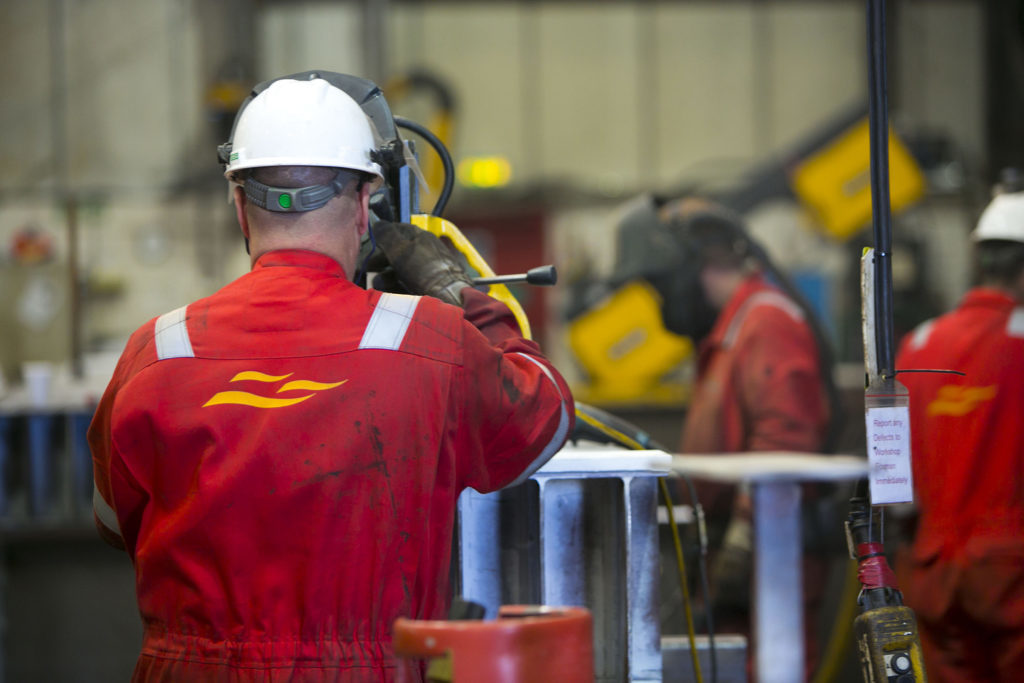 Offshore union Unite is threatening an industrial ballot over "delayed" payments to workers by Sparrows.
In September the Offshore Contractors Association (OCA) made an agreement with trade unions to implement a two percent pay increase, backdated to last April.
This also included a £450 lump sum for the period between January and March 2017.
Sparrows insists that workers have been informed they will receive the increased pay and backdated wages will be paid into their May and June wages.
Despite this Unite argues the firm has "delayed" implementing the increase.
The union says it has balloted the workers who are members of Unite, with 95% of those backing action.
A "full blown industrial ballot" will be carried out if the payment is not made in the next fortnight.
Regional organiser Tommy Campbell said: "It is unacceptable that Sparrows Offshore are delaying the implementation of a wage rise that was agreed eight months ago. This rise covers the period from January 2017, with members' waiting far longer than their OCA colleagues. Sparrows are party to the OCA pay discussions around a 2018 pay settlement, yet they are still to honour the 2017 agreement.
"We have raised this matter both informally and formally with Sparrows. Our members have recently received written communications confirming that they will be paid this rise in May and June 2018. However our members are yet to see evidence that their employer is going to live up to their word and pay the agreed rise.
"At this time we are awaiting confirmation from members that they have been paid this rise. Confirmation will come in early May 2018. However, we now have a clear indication from members that if this rise is not paid that they will want their trade union to launch a full blown industrial action ballot in the next couple of weeks.
"We call on Sparrows to pay these overdue back monies and work with Unite to avoid such lengthy delays following future agreed OCA pay rises."
A spokeswoman for Sparrows Group said:
"We are committed to ensuring our offshore workforce receives the agreed union pay settlement for the 2017-2018 period, subject to our clients agreeing to fund it per contractual arrangements already in place.
"Last week, we sent a letter regarding implementation of the agreed OCA salary increase to those working on projects for clients who have committed to supporting the pay increase. We have confirmed that the pay increase, and backdated wages for the intervening period, will be paid into their May and June wages."