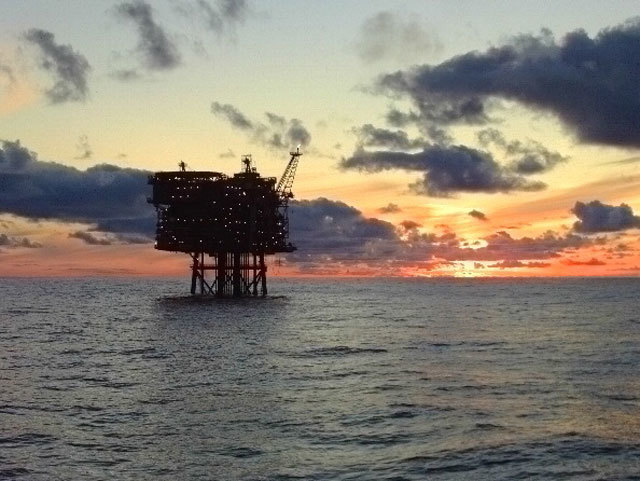 Scottish GDP grew last year in line with a slight upturn in North Sea revenues.
The latest quarterly national accounts show that when a geographical share of offshore oil and gas is included, GDP grew by 1% in the last three months of 2017 and 3.4% over the year as a whole.
Over the year, Scotland's geographical share of North Sea oil revenues returned to a surplus, with tax revenues rising to just over £1 billion, up from minus £130 million the previous year.
Onshore GDP is estimated at £152.1 billion, or £28,046 per person, in current prices.
This rises to £165.4 billion, or £30,482 a head, when a geographical share of UK offshore and overseas economic activity is included.
The Index of Manufactured Exports (IME) decreased by 2.9% in volume terms during the final quarter of the year.
Gross disposable household income was estimated to have increased by 1.7% over the year in current prices while the household savings ratio was 6.8% in the latest quarter, compared to an average value of 7.6% during 2017.
Economy Secretary Keith Brown said: "It is hugely encouraging to see that GDP grew across 2017, ending the year over 1% higher than the previous year.
"Figures for the first quarter of 2018 show retail sales also grew by 0.5%, rebounding from a slight decline at the end of 2017, while manufactured exports also increased by over 7% .
"These results chime with recent consumer and business confidence indicators for the start of this year.
"However, it cannot be stressed enough that Brexit remains the single biggest threat to our economy, particularly the impacts of any hard Brexit which could could cost Scotland's economy £12.7 billion a year by 2030."
The Scottish Conservatives highlighted that the 1.7% increase in gross disposable household income was less than inflation.
Finance spokesman Murdo Fraser said: "These statistics simply highlight the SNP's total disregard for the financial pressures of working families.
"Despite sluggish economic growth and repeated warnings from businesses across Scotland, the SNP still raised taxes on hard working Scottish families.
"While Scottish families are paying higher taxes, waiting times are getting longer, police numbers are falling and schools are short of teachers.
"Once again this shows that under the SNP, taxpayers pay more and get less."
Recommended for you
X

Power of partnerships a global solution for oil and gas industry