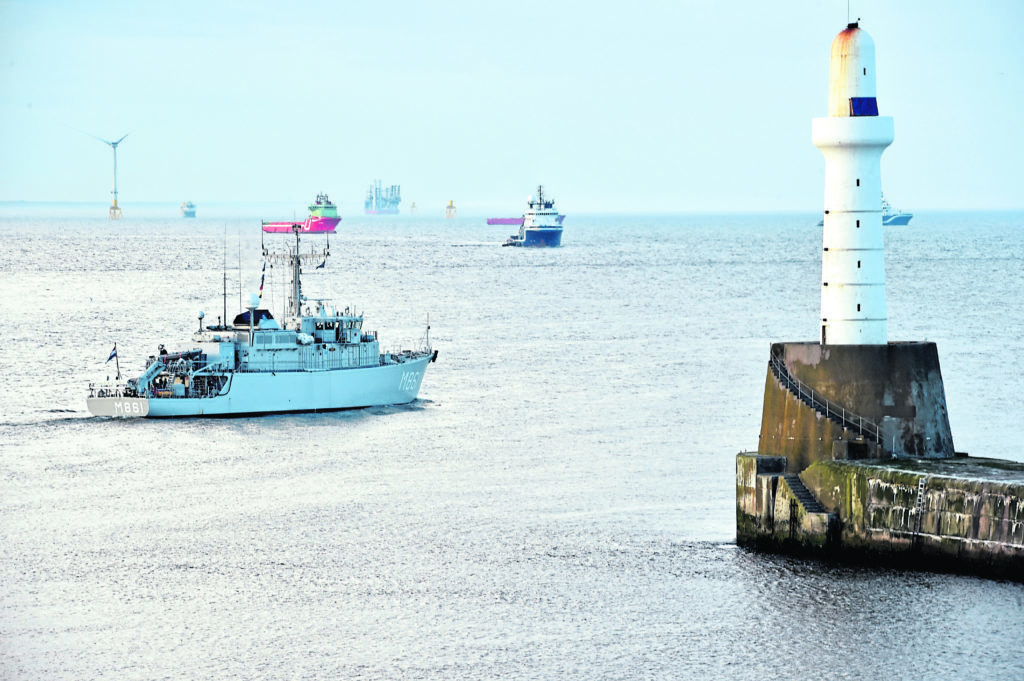 Four mine hunters left their north-east berth at the weekend as they set sail for a new operation clearing explosives from the Baltic seabed.
The ships, which are attached to Nato's mine countermeasure group, docked at Aberdeen last week, the sailors aboard having sharpened their skills during the Joint Warrior training exercise around Scotland's waters.
The crew enjoyed their first taste of dry land for a month over 48 hours in the Granite City, and the boats left the harbour in formation on Saturday evening.
Commander Peter Ramboer said the fleet's next mission would be to remove munitions from water off the coast of
Estonia – a spot believed to be especially plagued by the deadly devices.
Cdr Ramboer said: "We are now sailing to Talinn, Estonia, to dispose of mines from World War One, it is believed there are Russian and German explosives there. We will be there for 10 days, removing mines capable of lifting up a ship and breaking it.
"There are thousands of them off that coast."
Nato ships took part in four days of mine disposal work off Estonia last August, and 20 ships will take part in the forthcoming operation.
British mine hunter, the HMS Ramsey, will join the group's five vessels for the operation in a fortnight, and will remain a part of the fleet until August.
The Ramsey, which was launched in 1999, is built of glass-reinforced plastic and other non-magnetic materials so that her hull does not trigger mines as easily as standard warships.
Cdr Ramboer added: "Because we are part of Nato, we all speak the same military language, and work together well."
The 49-year-old officer, who enlisted when he was 15, discussed his outlook on the role his unit plays in the military.
He said: "If you look at what we are doing, we are all in a war machine but we are not warriors.
"We are making peace, where we go we take out the danger."