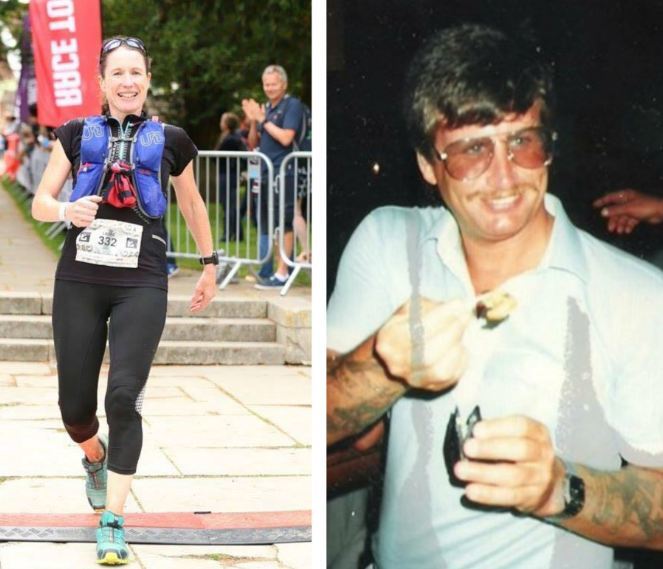 A woman whose father died in the Piper Alpha disaster is running a series of ultra-marathons to raise money for the upkeep of the memorial gardens in Aberdeen.
Laura Kearney's dad David McWhinnie was among the 167 people who lost their lives in the tragedy nearly 30 years ago.
Ms Kearney, who lives in Birmingham, is taking on 10 ultra-marathons and two regular marathons this year for the Pound for Piper charity, to help with the maintenance of the gardens in Hazlehead Park.
An ultra-marathon is any race longer than the traditional 26miles, and can vary in distance, with the majority between 31 to 100miles.
Ms Kearney started running around seven years ago, and began taking on ultra-marathons last year.
She has already taken on several this year, with a 40mile race in January, followed by a similar distance in February.
In March she took on a Glasgow to Edinburgh race, before doing a traditional marathon last month to "recover".
Then last week she came first place in a 62mile race in South Wales.
However, her biggest challenge still lies ahead with the 86mile Ridgeway Challenge in England in August.
She said: "With it approaching the 30th anniversary this year I wanted to do something to support Pound for Piper. I live in Birmingham now but I make the trip to Aberdeen when I can, every year or so. The memorial gardens have been a special place for us as a family to remember him.
"I have been running for six or seven years now and last year decided to start doing ultra-marathons. I did my first two ultras last June and July and got bitten by the ultra-bug. I decided to fund raise by doing something that I absolutely love.
"So I decided I'm going to run 10 ultras and two marathons this year."
Her father David died when Ms Kearney was just 15 years old.
Laura's uncle was also on the platform, coming off shift before the tragedy took place.
She is taking her nine-year-old daughter to Aberdeen this year to mark the 30th anniversary of the incident, and "feels closest" to her dad at the memorial gardens.
She added: "One of the things that struck me when I went to the 25th year anniversary service, I was looking at all these kids around without their granddads. I'm taking my daughter up to Aberdeen this year so that she can experience the gardens and learn about her granddad.
"The gardens have always been the place that I've felt closest to my dad. The statue with everybody's names on it, it needs to be treasured."
Donations can be made through her JustGiving page: https://www.justgiving.com/fundraising/laura-kearney3
Recommended for you

Life after oil: Comms adviser takes 'leap of faith' on fitness passion