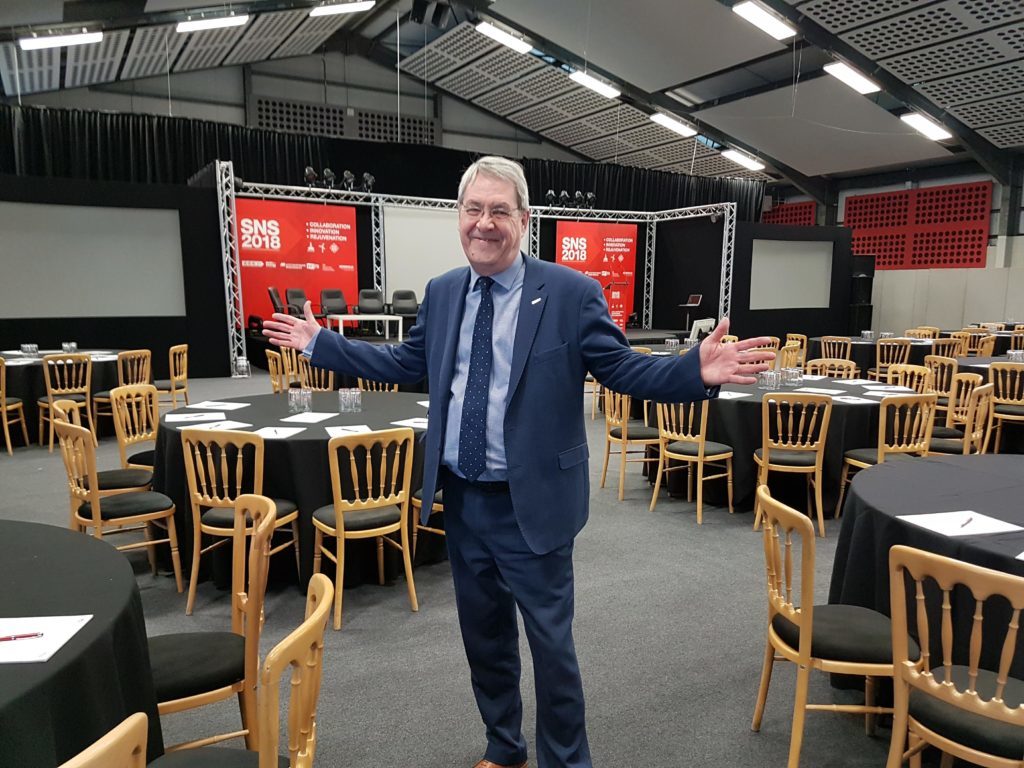 Organisers of the Southern North Sea conference are determined it will be the "best ever" when it returns this week.
In February the two-day event was cancelled just minutes before registration was due to begin as a result of heavy snowstorms in the Norwich area.
Organisers, the East of England Energy Group (EEEGR) said the decision was "devastating" but had to be made in the interests of safety.
Against the odds, the SNS Conference will again take place this week, less than three months later.
Despite what EEEGR CEO Simon Gray joked had caused him "premature ageing, stress, late nights", record numbers are expected.
Around 1,500 people are hoped to attend the event which takes place over Wednesday and Thursday, up from last year's 1,100.
Over 80% of speakers who were planned to talk in February have returned, with many exhibitors allowing their salary to carry over.
The weather forecast is also much improved from that of late-February.
Mr Gray said: "The vast majority of exhibitors allowed there salary to carry over, they have been very understanding on that front.
"We are very fortunate that many speakers agreed to speak again. Over 80% have remained with us, one or two couldn't because of other commitments.
"The rest is just down to having a good team really. Our members have also been fantastic, it's that support that has helped us get our plans together and make it a success.
"There's been lots of issues along the way but we are determined this will be the biggest and best event ever."
EEEGR is still waiting to hear the outcome of their insurance claims against the cost of the last conference, but Mr Gray said that no matter the result of that, the group has sufficient reserves to cover it and remain solvent.
The event itself is back at Norfolk Showground, with a range of speakers and announcements set to take place.
Among those featured include Shell, discussing Southern North Sea drilling and its Bacton gas plant rejuvenation programme.
The Oil and Gas Authority will discuss tight gas opportunities, Eni will outline its Hewett decommissioning process and Ben Sykes from Orsted will be speaking about the renewables sector deal.
Despite the issues earlier in the year, Mr Gray believes they may well be better for it.
He added: "I was at the All Energy conference in Glasgow and I was surprised by the number of people who said they heard about it and said they were coming.
"I think the publicity generated from it has gone in our favour. We've got people coming from Holland, Germany, France and Denmark. It's gone from being an east of England regional event to a national one and even a quasi-international event."
Recommended for you

AREG Energy Futures conference to highlight size of prize for north-east