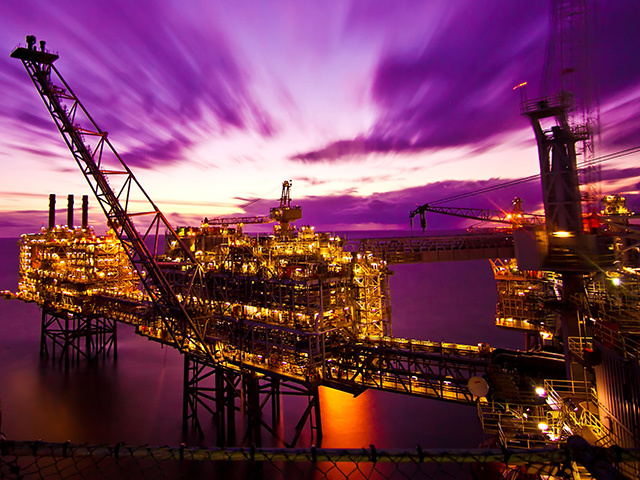 All future North Sea revenues should be set aside in a wealth fund, according to a new report setting out the economic case for Scottish independence.
The SNP's Growth Commission report, unveiled by First Minister Nicola Sturgeon, said a new Fund for Future Generations should support the public sector.
It would also aim to exploit "inter-generational opportunities" in infrastructure, innovation and the development of future renewable energy schemes.
It suggests the fund could be managed through a Scottish Investment Bank, run by Scottish Enterprise.
According the report, the UK Government has received around £328billion in revenue from North Sea production over the last 40 years.
It argues this fund would be different from the wealth fund established in Norway, worth around £750billion, which is largely used to invest overseas.
The document said "the situation in Scotland is different and, therefore, the Fund for Future Generations should have a different role".
The SNP said the value of the fund would depend on oil price.
The report's case for independence "discounts" oil revenues, assuming they will be "zero for planning purposes", however it adds that this does not mean the SNP doesn't expect any revenues.
It said oil revenues should be treated as a windfall bonus and that successive UK governments have "failed" to take that approach, representing "poor fiscal and economic management".
The report's authors said: "If tax revenues from oil and gas do recover, using such revenues for current spending – as the UK Government has done for the last four decades – cannot be judged a prudent or judicious use of a windfall from the depletion of a scarce natural resource."
The price of Brent crude is currently hovering around $77 a barrel, down from around $110 around the time of the last independence campaign in 2014.
UK oil and gas revenues have plummeted since the price crash, however the Office for Budget Responsibility said this month that it expects revenues to average around £1billion for each of the next five years.
The document said recent dips in revenues should also be attributed to tax relief measures from the UK Government.
According to the report, an independent Scotland should be able to "reap the long-term benefits" of oil revenues for years.
It argues that recent investment in the North Sea, coupled with rising oil prices, means the country could reap the benefits of oil revenues "if they are stewarded sensibly".
Like revenues, oil and gas exports are also to be treated as a "bonus", however adding oil and gas could increase Scotland's export value by £90billion.
Chief executive of industry body Oil & Gas UK  Deirdre Michie said: "The UK's offshore oil and gas sector is an industrial success story with huge potential for the future. Industry and government must maintain momentum in efforts to maximise economic recovery and strengthen the global capabilities of the supply chain.
"While it is for governments to decide how best to manage tax revenues, it is important that the UK continues to be supported by an industry which provides security of energy supply, contributes billions of pounds to the economy and provides hundreds of thousands of high value jobs."
Recommended for you
X

VIDEO: Killer whales hunting in North Sea close to ERRV