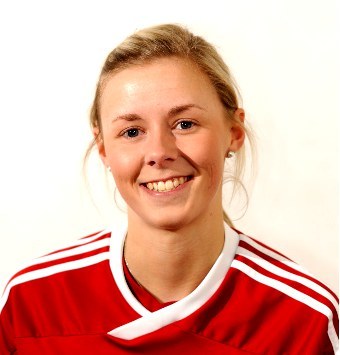 An electrical and instrumentation (E&I) designer for the oil industry, who is part of the Aberdeen FC ladies team, is setting new goals on and off the pitch.
Loren Campbell is aiming to become a fully-fledged electrical engineer and help the Dons win promotion.
The 27-year-old works for Aberdeen-based engineering firm Katoni, while juggling life as a right-back for the ladies' team.
She has recently moved back into oil and gas having had a spell in the nuclear sector at Dounreay in the Highlands.
A former under-19s Scotland international, Loren rose through the ranks of the Aberdeen youth system and wants to help the Dons win promotion from SWPL 2 to the top league in the country.
Meanwhile, she said working in a smaller engineering firm like Katoni, as opposed to larger employers, has boosted her ambitions for her career.
She said: "Football-wise we're in SWPL 2 so we'd be looking to get back SWPL 1 in the next couple of years but we've got a really young team at the moment and I'm probably one of the older ones so from a more experienced point of view, s we're trying to get the club back to where it should be on the pitch.
"At work, I'm currently doing an E&I designer role but in a small company I'm getting really involved in the engineering and helping out with them so I will probably strive towards becoming an electrical engineer within my own career.
"I've previously worked with Wood Group and Amec, the bigger companies, so  I came back to work for a smaller company, and I'm really enjoying it.
"I do my own E&I designer role, supporting the engineers and doing the drawings but because it is such a small company you tend to get involved in everything really, the bids on the jobs, the processes and tenders, it's really good, I've learned a lot since I've been here."
https://www.facebook.com/Aberdeenfcl/videos/1016190935058797/
Loren said that she has always had an interest in STEM subjects like physics and engineering and that oil and gas is not the only sector looking to promote the area among young women.
She added: "When I was at Douneray I was in a women in nuclear programme because they were really concerned about their percentage of female to male employees but I think it's like nursing, you're probably outnumbered in the opposite direction in different industries. Personally, I've not been held back by being a female at all.
"Maybe by playing football and having that something in common with the guys maybe helps a wee bit for getting on with them. I've always worked in a male-dominant environment and it doesn't bother me to be honest."
Among her career highlights is a wonder goal (see video!) against Celtic, and representing Scotland on the international stage.
That's matched by achieving her BEng electronic and electrical engineering degree at Robert Gordon University.
She said: "I suppose off the pitch would be completing my degree part-time while I was juggling football, working and studying.
"I don't score goals very often because I'm a right-back, not going to lie, it probably is the last goal I did score! That was good but I've played under 19s in the youth system for Scotland so I'm quite proud of that achievement."
Recommended for you

Ex-oil worker turns back on cold North Sea to make luxury hot tubs