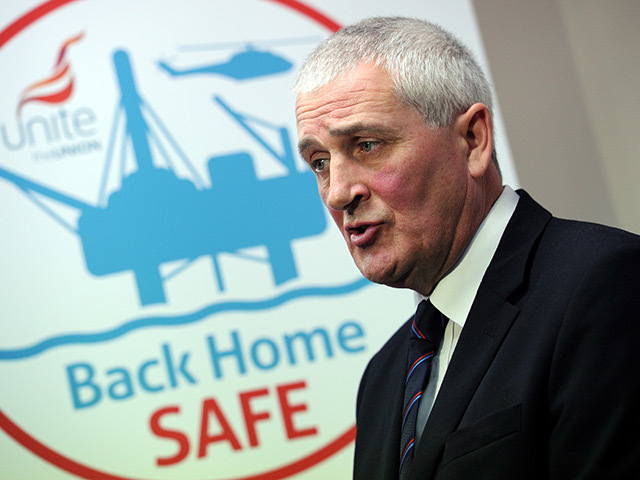 Unite is to call on the UK government to provide the offshore sector with "strategic state support" to address emerging challenges.
Regional organiser Tommy Campbell appeared before the Scottish Affairs Committee today, saying there is currently "no plan" for the industry's future.
He believes further help from Westminster is needed to ensure the remaining 20billion barrels of oil in the North Sea are recovered.
That is along with the emerging opportunities from decommissioning, as well as addressing a potential Brexit skills gap.
Unite will ask for government co-investment in offshore infrastructure such as pipelines, as well as full devolution of employment law to Scotland.
The union also wants further research into the impact of Brexit on skills in the North Sea, and the transfer-ability of skills to the emerging decommissioning sector.
During his session, Mr Campbell will reiterate calls for a national decommissioning strategy, made in partnership with industry, amid an estimate of work worth up to £11.3billion coming to Scotland in the next decade.
Unite has repeatedly opposed job cuts made in the wake of the 2014 oil downturn, but is now urging action amid potential upturn in the price of brent crude oil.
Mr Campbell said: "The oil and gas sector continues to be a major employer and contributor to the UK economy – and it will be so for generations to come. It is a sector of national interest and security; it cannot be left to the vagaries of the market.
"We have seen the devastating effects of this approach over the last few years and this can't be allowed to happen again.
"The UK and Scottish governments must step in now to strategically support the sector to ensure we secure maximum economic recovery of the potential $20 billion barrels in the North Sea, and to plan for the gradual phasing out of wells through a national decommissioning strategy.
"Unite remains deeply concerned that across the UK there is no coherent plan to address the present and future challenges for the Oil and Gas sector."
Recommended for you

Oil and gas summit deemed a win as doubt cleared on skills passport