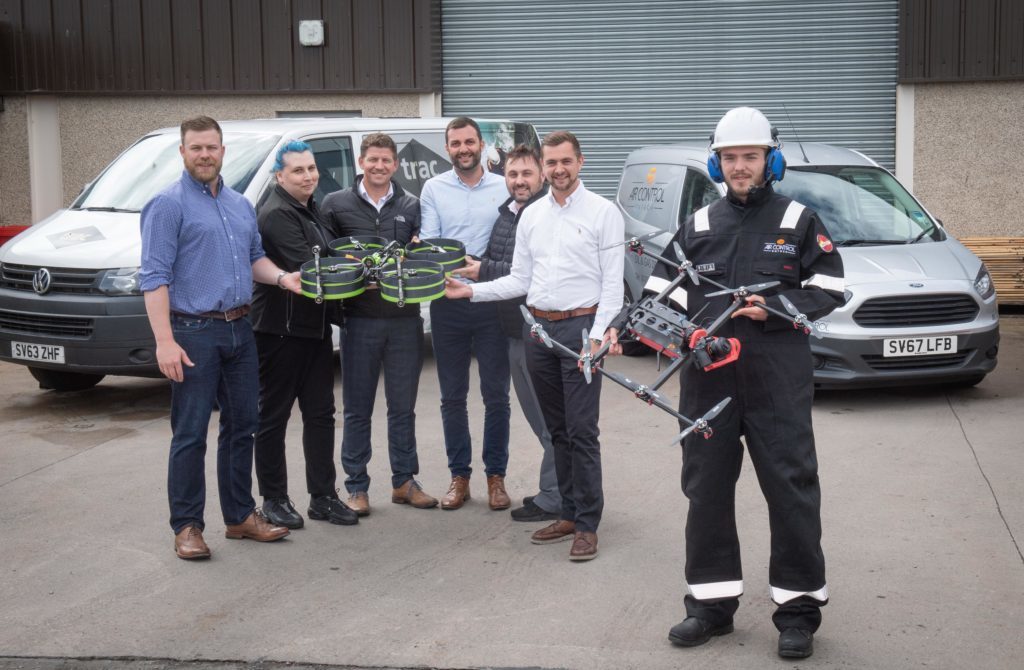 Two Aberdeen oil service firms have decided to team up after taking a shine to each other at the Oil and Gas Technology Centre (OGTC).
Drone firm Air Control Entech (ACE) and rope access specialist Trac Oil and Gas have announced a "strategic partnership" to offer best-in-class inspection and maintenance services in the North Sea.
Bosses from the two companies met through their involvement with the OGTC and decided their offerings were compatible.
The partners said a combination of ACE's drones and Trac's inspection prowess would help them "push the boundaries of what's currently possible".
They will work together on the development of unmanned aerial vehicles (UAVs) which can make remote inspection safer and more reliable.
Trac has already trialled ACE drones developed with OGTC funding.
Jan Stander, business delivery manager at Trac, said one of Trac's specialists was spending time in ACE's offices to help cultivate the relationship.
He also said they would try to ensure that each company is represented on every job, which could mean an ACE pilot working with a Trac inspector, for example.
Mr Stander said the speed with which companies produce new models of drone was one of the main reasons for joining forces.
He said: "You could buy a new one on Saturday and by Monday there is a new model again.
"They're developing very quickly and that's why we're partnering with a company that is building its own.
"It will help that we've been offshore and know what the issues are."
Mr Stander insisted the rapid development of drones did not spell the end for rope access, which has a reputation for being especially hazardous.
"At the moment drones are developing fast but they are not going to replace us," he said. "UAVs can go up for a general visual. It's for primary inspection. You still need someone to go in for a closer look."
ACE managing director Kieran Hope said: "We first met Trac through the OGTC and we're delighted to be working together on UAV inspection deployments.
"Our LiveStream technology is seeing real pull-through in the market and with these joint projects we expect to gain the insight we need to set a R&D direction specific to the oil and gas industry.
"The team and I look forward to working with Trac to set ever-higher standards of quality and safety for UAV inspection techniques".
Grant Blackaby, offshore integrity engineer for Trac, said: "Our mission is to increase personnel and process safety by utilising robotics and innovative technologies to minimise the exposure to unnecessary risk from working at height through to working within confined space.
"The partnership with Air Control Entech enables us to offer a valuable technology that previously has not been fully realised in the oil and gas industry.
"This will in turn increase efficiencies and reduce costs in an already financially challenging environment."