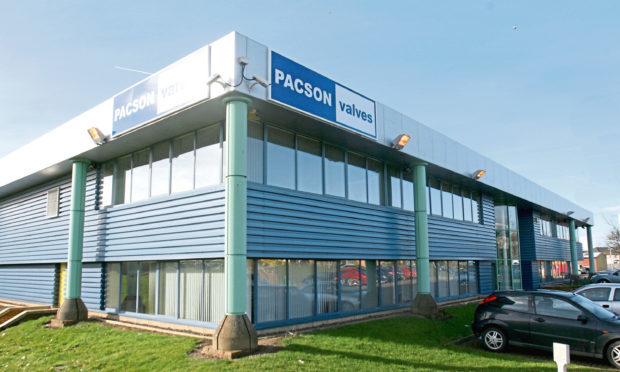 A Dundee specialist manufacturer of offshore valves for the oil industry has moved back into the black despite tough trading conditions.
Newly published accounts at Companies House show Claverhouse Industrial Park-based Pacson Valves made a slim profit of £33,502 in the year to September 29, an improvement on an £81,514 pre-tax loss declared in 2016.
Turnover in the year was £6.63 million, almost identical to that seen in the prior year.
In his strategic report to the accounts, managing director Keith Crawford said the economic environment was improving but Pacson – along with others in the energy industry supply chain – had yet to see the benefit of the recent rise in the price of crude.
"Following the oil price crash in 2014, uncertainty has remained in the market throughout 2017 and into 2018," Mr Crawford said.
"While the world oil price has recovered during this period, rising to over $70 a barrel consistently, and the larger projects have begun to be sanctioned, this improvement in trading condition has not yet reached all levels of the supply chain, including supply of subsea and high specification valves.
"With larger projects now being sanctioned and confidence appearing to return to the market, the prospects for the group for the future years beyond 2018 are looking more favourable than in recent years."
The accounts show the firm reduced its headcount from 90 to 75 in 2017, with the majority of the cuts coming in production roles.
"Pacson Limited continues to actively track market conditions and market press, and has continued to react accordingly, finding the right size for the current market," Mr Crawford added.
"Despite the continued, adverse market conditions, Pacson Limited has continued to make significant improvements in the business. We have retained the staff necessary for any upturn in the market and have accelerated our research and development program, both on existing product ranges and developing a new range of high specification valves, and we are well positioned to take advantage when the market improves."
During the year, Pacson was a subsidiary of Evotek Ltd, which also owns oilfield equipment firm B&A Hydraulics.
The group – which is controlled by Mr Crawford – generated sales of £7.8m and a pre-tax profit of £206,390 in the period from October 1 2016 to September 29 last year.
The accounts note that post-year end, a restructuring of the group took place.
The move saw Pacson de-merge from Evotek and become a wholly-owned subsidiary of Macrocom (1056) Ltd.
B&A continues to be held by Evotek, which itself is now a subsidiary of Macrocom (1057) Ltd. All companies in both groups remain under the ultimate control of Mr Crawford.