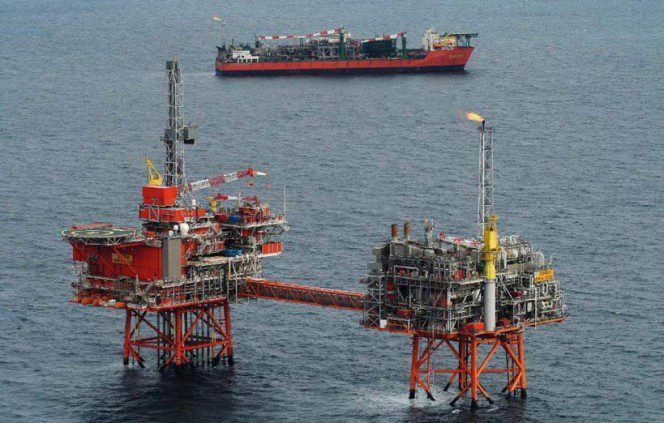 The North Sea is "suffering" due to firms looking to more attractive regions of the world to invest, according to an analyst.
Stephen Martin is a senior investment manager at Brewin Dolphin.
His comments come following a series of announcements from oil majors that they are planning to sell off assets in the North Sea.
Earlier this month Total announced plans to sell off assets worth more than £1billion, including a number of smaller fields
In May it was reported that ConocoPhillips is considering an exit from the North Sea after the firm previously announced plans to cut 450 UK jobs.
Meanwhile Chevron has revealed it plans to sell off all of its central North Sea assets.
Mr Martin believes the large firms are looking to stay in good shape, and the North Sea has been a victim of that with firms looking at potentially more attractive areas like Brazil, West Africa and the Gulf of Mexico.
He said: "Certain companies have got different strategies but I think the North Sea is suffering from that focus on other parts of the world where there are better growth prospects.
"A lot of the reasons why they are doing it are to repair their own balance sheets. They are looking to be more concentrated and focussed to repair some of the damage that the low oil price has done.
"It is a diminishing resource, as everyone knows and we've also got decommissioning to come. I think the main reason is they want to make sure their business is in good shape.
"Having said that, there are small companies or private equity companies who are taking a bigger interest in the North Sea assets."
Despite the offloading of assets, he added that west of Shetland remains a largely attractive area.
Total is keeping some of its equity in the Laggan-Tormore fields there.
ConocoPhillips is retaining 7.5% stake in BP's Clair field after selling off a 16.5% share to the firm a fortnight ago.
Mr Martin said: "There have been a few deals, some of the majors have retained interests west of Shetland. Clearly the dynamics are different there, they are much newer fields. The reserve potential is higher so I guess some of them are keen to retain their interest there.
"There can be some issues on cost of extraction. The North Sea is relatively stable but once you get up there it gets quite wild."
The analyst believes that the move could make way for more smaller firms to enter take up the assets, with Chrysaor, Spirit Energy and Neptune being among the examples.
He described this as the "natural evolution" of the sector, ahead of "new opportunities" such as decommissioning.
He added: "It's a natural evolution of the structure of the industry. You're going to have smaller who are a bit more focussed and effective, and larger companies are going to be looking for more bang for their buck.
"I would expect the trend to continue. The point of rest about some of the majors putting these assets up for sale is it is just a natural evolution but don't forget that with that comes opportunity.
"That's for the whole Aberdeen area, with decommissioning on the way, with a huge amount of knowledge and expertise."