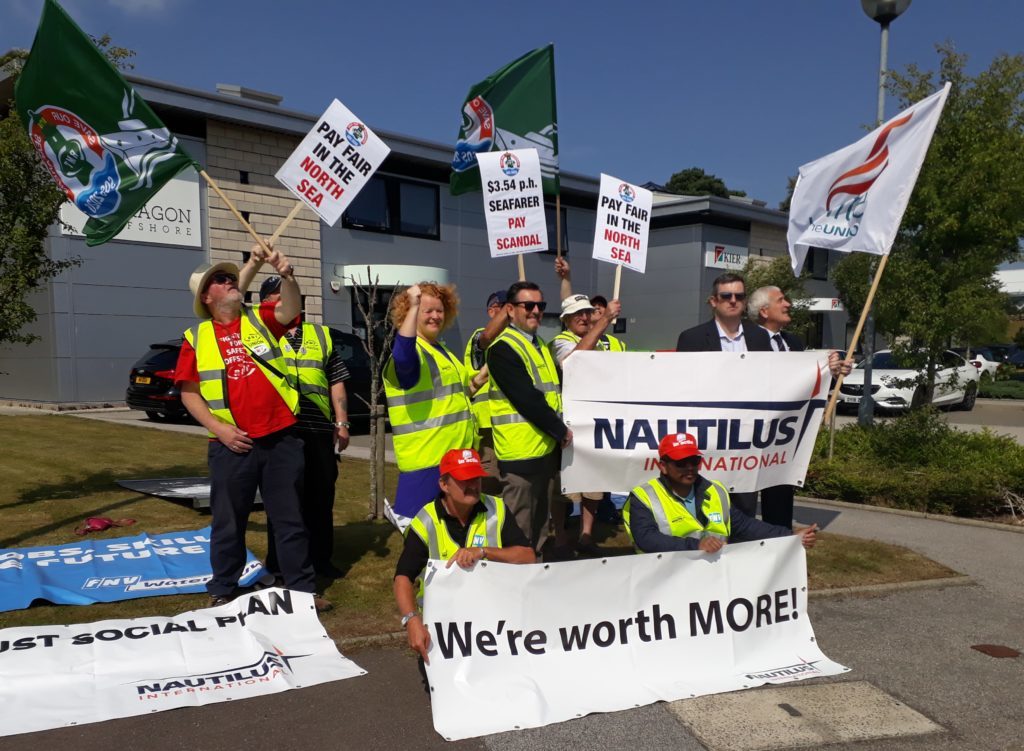 Dutch protestors and Scottish trade unions held an angry protest outside the Westhill office of Borr Drilling's newly acquired firm Paragon Offshore yesterday.
Staff and unions gathered in protest over a "unfair" redundancy package offered by Borr Drilling to 70 staff members, with workers handing over a petition against the proposal to Borr senior management.
Anger by unions and workers centres specifically on 70 job losses across two rigs and an office in the Dutch city of Beverwijk.
Dutch trade union Nautilus was supported by Scottish trade unions Unite and RMT Union.
The petition, handed over by two dutch staff and a union representative, was accepted in Paragon's north-east office by Borr Drilling's North Sea director Darren Sutherland and HR manager Karen Scott.
As part of the handover agreement, Mr Sutherland and Ms Scott refused to enter into discussions with protestors.
Sascha Meijer, Nautilus executive officer, said: "We think that a multinational company like Borr should do better in redeploying their loyal workers, some of whom have been working with them for decades, but until now the company is not willing to redeploy so we demand a better social plan from a company that spent almost $1 billion on buying new rigs."
Borr Drilling struck a deal to buy the Houston-headquartered Paragon in February.
It is unclear whether staff in the north-east have been impacted. But at the time of the takeover, Paragon said it had 19 employees and two contractors in Westhill.
Jesper Mogensen, a 60-year old Borr worker who travelled from Holland, said: "I have been working with Borr for 24 years, I had hoped I could continue with them until I retire.
"The way it works in the Netherlands is if a company wants to terminate an employee then they have to do everything in their power to find another job for that employee, Borr have done nothing, absolutely zero."
Supporting the protest, Tommy Campbell, regional director for Unite added: "The campaign to protect collective agreements and higher wages goes on. The race to the bottom in terms of social dumping has just got to be brought to an end."
"If we want economic recovery in this country then we have to put money back into the pockets of workers, they'll spend it and that'll help that process of recovery."
RMT regional organiser Jake Molloy said: "Our colleagues in Nautilus face the same problems that many of our members do in that the industry is moving quite rapidly now toward the exploitation of foreign nationals in every sector.
"This is not a poor industry, it's a very rich industry and this has got to stop."