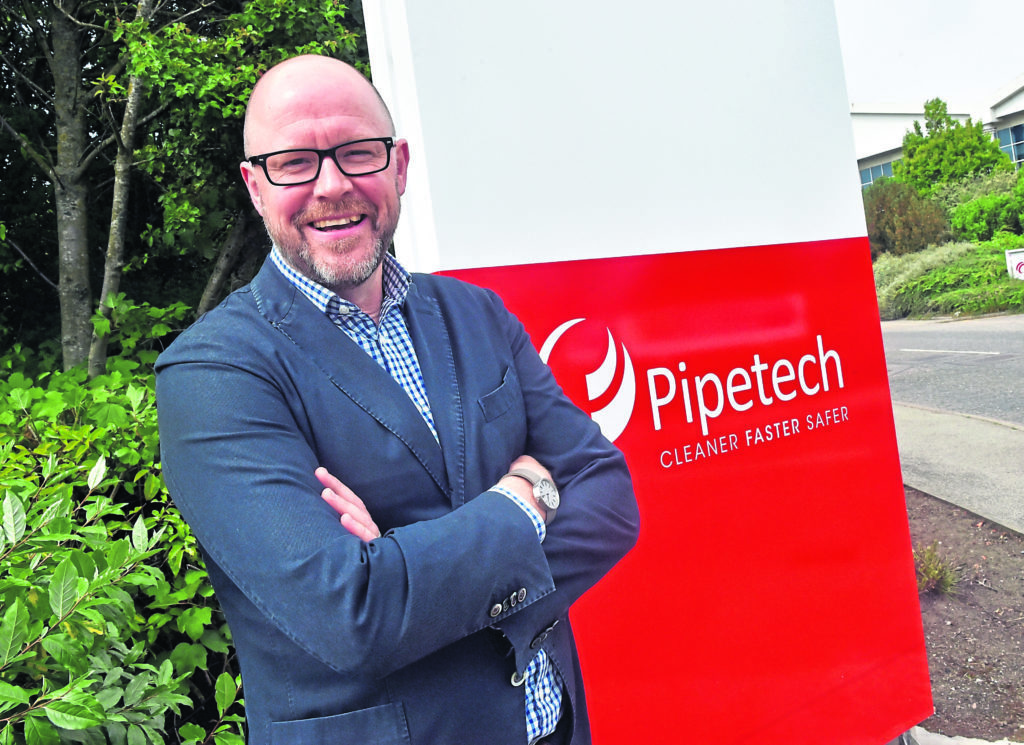 North-east energy service firm Pipetech is investing £200,000 in its facilities and taking on new engineers to support its expansion drive.
Pipetech, which specialises in pipe and process cleaning services, hopes to open a new workshop and external test facility in September.
The company has eight staff members in Portlethen, near Aberdeen, 12 in Stavanger, and a pool of contractors.
Pipetech intends to stay "lean and mean", but as its growth continues, the need for more engineers is inevitable, managing director Eric Doyle said.
Mr Doyle, who took up the role last year, said he would look to recruit five to six people in the north-east in the next year.
The company helps clients to overcome costly flow and blockage challenges on offshore oil fields, power plants and refineries.
Pipetech is expanding in Sweden while eyeing further opportunities in new territories like Denmark and the Netherlands.
The firm was launched in Stavanger, Norway, in 2001 before being acquired by Scottish company Ramco four years ago.
Portlethen-based Ramco – owned by Lloyds Development Capital, the private equity arm of Lloyds Banking Group – specialises in the inspection, internal and external blast cleaning and protective coating of steel pipes.
Mr Doyle said part of his remit upon joining from offshore engineering firm Aquaterra Energy was to find a balance between onshore and offshore work.
He said: "My role is to get more out of the UK. We wanted to expand offshore and get the message out there that we're very specialist and efficient. We brought in sales managers in Norway and the UK. That has given us better awareness of the markets. We have a host of new clients and return clients, including Nexen. Customers are saying they want us to do more for them so we need to expand our facilities."
Pipetech, operating in the UK since 2014, has added new products and offerings in recent years.
North Sea operators have used its deepwater cleaning system to clear blocked pipes and manifolds.
Pipetech deployed the system for a Norwegian client that had budgeted 70 million NOK to clear a blockage, a job which was expected to involve the removal of a manifold.
"They had tried everything to get it cleared," Mr Doyle said. "We took our design to them and 12 weeks later we were offshore. We had the cleaning system designed and fully tested.
"It cleared the blockage in one-and-a-half shifts. They did not have to shut down or remove the manifold.
"I thought we were on to something."
Mr Doyle said Pipetech wanted to "get into the subsea world", because previously it was only treating the end part of the process at the platform.
The firm is now looking to develop a "long reach" system for pipelines.
Mr Doyle said he spoke to Chrysaor about helping unblock a troublesome pipeline between the Lomond and Everest platforms.
The wax build-up was too far out for the current cleaning system, and Chrysaor opted to lay 16 miles of new pipeline to bypass the blocked section.
That job came too soon for Pipetech, but Mr Doyle believes the long-reach system will be a new industry leader when it is ready.
He said: "We're doing engineering work to see how far we can take that technology.
"We'd need three months for proving the engineering and analysis and then we'd need someone to help us finance the build. We've done the maths and are nearly there."
Pipetech's new active caisson management system has been another "excellent" addition to the company's arsenal.
The service is aimed at metal fatigue and erosion problems costing the oil and gas industry millions of pounds a year.
Mr Doyle said: "Caissons can fall between the cracks for operators. They suffer from a lack of maintenance and if they're not working well it has a negative impact on production.
"We're offering clients a one-stop shop for inspection. We will manage the caissons over a couple of years to make sure they are working optimally.
"We can map out the hotspots and then say, 'if we treat them now we can save you a fortune'. We're talking to clients in the UK and Scandinavia about that and are seeing a real upturn in work."
Mr Doyle said in June 2017 that Pipetech aimed to quadruple turnover within three years, to £20 million, thanks to diversification.
That remains an ambition, but Mr Doyle acknowledged the firm is a "little bit behind".
He said: "We're still seeing that the market is slow. The recovery is great and there is movement in certain areas, but clients' budgets for 2018 were drawn up in 2017 and they're still reticent about spending.
"Maintenance has taken a pounding but clients are now increasing the frequency of visits by inspection teams."
On the recruitment front, Mr Doyle said Pipetech would "not just hire bodies" for the sake of it.
The business is looking for people who subscribe to the management team's philosophy.
He said: "We tackle the tricky engineering challenges. We do the work not because we have to but because we love it – and we are good at it."
Recommended for you
X

Ex-oil trader found guilty of bribing African officials