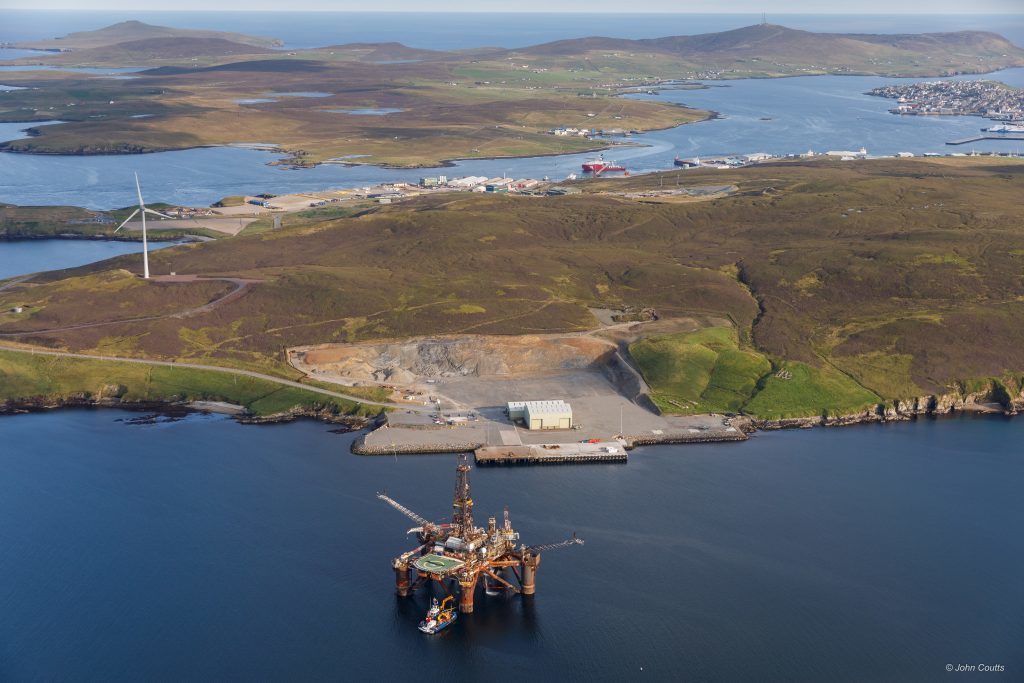 The boss at Lerwick harbour said building an ultra-deep-water port in Shetland would "fill a gap" in the UK decommissioning market.
Lerwick Port Authority (LPA) chief executive Sandra Laurenson said the UK currently has only two ports which can accept delivery of an oil platform's topside modules without them needing to be cut down into smaller sections.
But Lerwick and Able UK's base in Teesside can only tackle "single lift" jobs if the platform topsides are transferred from a heavy-lift vessel to a barge before being "skidded" onto the quay.
The water is not deep enough at either port to allow the largest decommissioning vessels to come right up to a berth and set a whole platform directly onto the quay.
The water depth immediately alongside Dales Voe is 40ft.
LPA wants to construct a new quay with depths of about 80ft, which would allow it to compete with a number of Norwegian harbours.
Several installations which were based in the UK North Sea have been shipped to Norway for dismantling in recent years, and Lerwick is determined to change that trend.
Removing a platform in a single lift can be quicker than other methods which involve dismantling an installation on module at a time.
Being able to lower a platform directly onto a quayside would also help reduce costs because a barge would not be needed.
Ms Laurenson, who will retire from her role later this year, said the project would be a "game changer" for Shetland.
Bill Cattanach, head of supply chain at the Oil and Gas Authority, said Lerwick could become a "bigger jewel in the crown" for Scotland if it gets an ultra-deep-water port.
Mr Cattanach added: "There's a saying that two things are inevitable in life – death and taxes. Well, there's a third now – decommissioning."
Recommended for you

Gallery: Snappers' shots of Ninian Northern jacket arriving in Shetland