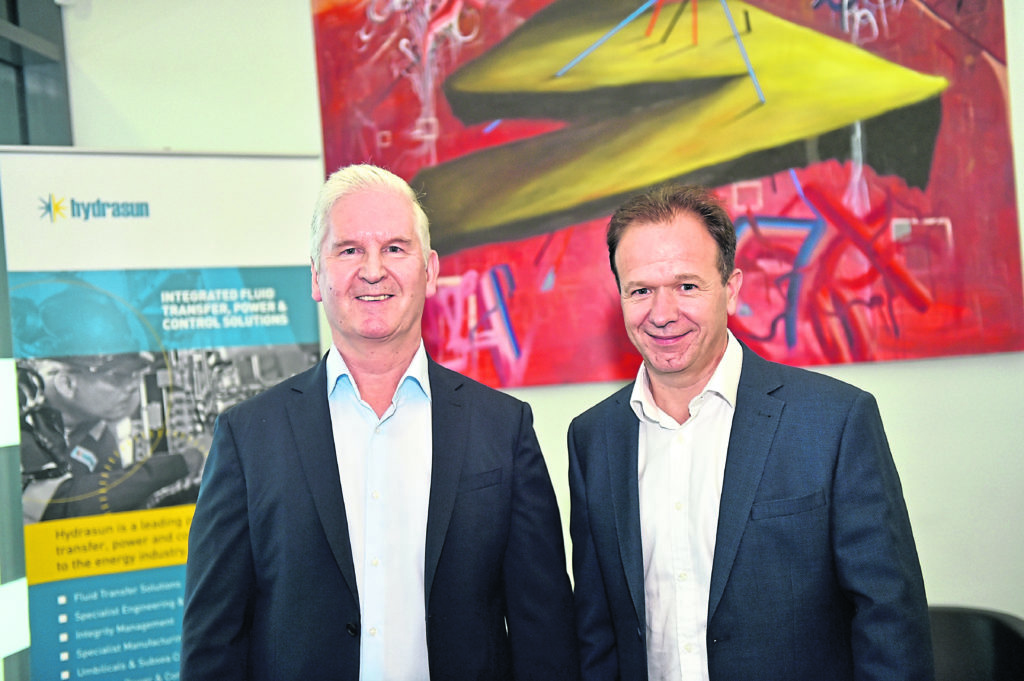 Bosses at Hydrasun are hoping to build forward momentum on the tailwinds generated by a raft of new deals worth almost £30 million.
Hydrasun has also committed to its biggest investment in years to bring in a £2.5m piece of kit for manufacturing subsea umbilicals and well intervention lines.
The company provides integrated fluid transfer, power and control solutions to the energy, marine, renewables and defence industries worldwide.
The business has clinched a £12m contract to supply integrity management services and products to an operator in the Caspian region over the next four years.
It will receive £13m to lay on engineering, procurement, installation, testing and commissioning of pipework systems in the Eastern Mediterranean.
And a series of orders for subsea umbilicals and hydraulic leads from customers in the UK and overseas will contribute a further £4m.
The contracts and orders were all signed during the last three months. This is the company's first "major instalment" of good news for quite some time.
Chief executive Bob Drummond said Hydrasun had been "hit really hard" during the downturn, as was the case with just about every supply chain company.
Aberdeen-headquartered Hydrasun turned over £120m and recorded pre-tax profits of £17m in the year to March 31, 2014.
Turnover fell to £62m and profits dropped to £1.25m in 2016-17, with earnings before interest, tax, depreciation and amortisation (Ebitda) of £7.2m.
Mr Drummond said results for 2017-18, to be published later this month, would be broadly similar to the previous year.
The new contract awards will start to be felt during the current financial year. As a result, Mr Drummond said he expected sales to be 12-15% higher for 2018-19.
Hydrasun expects a similar level of growth for Ebitda.
In another sign of Hydrasun's growth, the business has hired 40 employees in the last four months, including 14 in the UK.
The firm now has 426 staff members, of whom 256 are in the Granite City.
Before the downturn struck, Hydrasun's headcount was 660.
Mr Drummond said his management team had to work hard to find people with the right qualifications and experience.
"It's hard to make the assumption that recruitment will be easy because of redundancies during the downturn because there has been a high level of migration into other industries," he said.
"I think a lot of people have left the oil and gas industry, but we've been pleased with our new recruits."
Mr Drummond said the recovery felt more "robust" compared to this time last year.
He said: "We saw some signs of recovery last year, but it was still fragile at that stage.
"We're seeing stronger signs this year, though the recovery is not absolutely 'full-on' yet.
"Now we've got this good news and I hope we can build forward momentum with this tailwind."
Mr Drummond said international sales were the main driver behind Hydrasun's upturn in fortunes, accounting for about 60% of the total.
However, balance between UK and international sales could be restored over the next 12-15 months.
The company is also making "good progress" on its diversification into the hydrogen fuel cell market.
He said: "What we are seeing from our UK customer base is a high degree of caution and considerable restraint in spending.
"The message we're getting from customers is that business is better, but they are going through their own transition."
Mr Drummond said the Eastern Mediterranean deal was a breakthrough for Hydrasun in terms of scale and the nature of services provided.
Previous work in that region was limited to the sale of products, but the business will now contribute to a major project involving the wholesale replacement and reinstallation of pipework systems on a platform.
Emboldened by the improvement in the market, Hydrasun has ordered a horizontal helix assembly machine, which will arrive in Aberdeen in December.
Installation and commissioning of the machinery will be completed by the end of February 2019.
Hydrasun also intends to hire up to 12 more people for its umbilicals and specialist hose division to help it meet demand.
Chief commercial officer Craig Sangster said Hydrasun had been active in the umbilicals segment for the last 20 years and had an existing machine, but that the new equipment would help it produce bigger, longer and more complex umbilicals.
Mr Sangster said that market segment was worth £15-16m annually pre-downturn and that the new machine could deliver double that figure in the next few years.
Recommended for you

North-east oil industry needs to enhance 'narrative' or risk a 'brain drain'