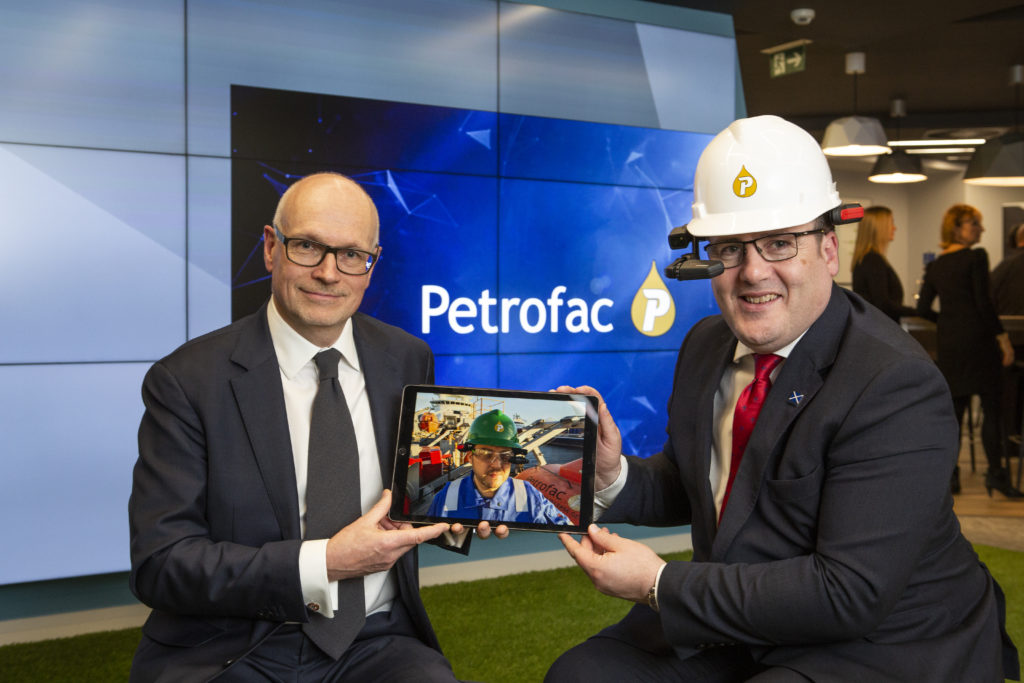 Petrofac has launched a new facility to take advantage of the "enormous potential" of digital technology to benefit the North Sea and wider oil and gas sector.
Unveiling the new 'innovation zone' at its Aberdeen base yesterday, the energy services giant said it would help operators keep costs down as the sector emerges from the downturn.
Petrofac also said it is vital the North Sea meets the "modern world" in taking advantage of new technologies.
At a launch event yesterday, Petrofac highlighted how tech like computer-attached hard hats and artificial intelligence can bring down costs.
Chief operating officer John Pearson said innovation can "fill the gap" as the low costs of the recent oil downturn start to increase.
He said: "At the bottom of the cycle, you defer some activities and you can take advantage of prices being low because you're at the bottom of a cycle.
"Any economist will tell you that will not survive as things get busier – you just won't get a drilling rig for the same price you will get one just now.
"It is still tough for industry at current oil prices and as we get busier, we've got to not lose our efficiency.
"If you can't just take advantage of low prices and people being quiet, you have to innovate to not just fill that gap but actually keep the efficiency of the industry going, so I think it is absolutely vital."
Petrofac said the new centre will help improve its own delivery, saving costs for clients.
The firm said that while technology has transformed modern life – from Netflix to digital banking – the oil and gas sector is lagging behind by comparison.
Mr Pearson added: "I think the North Sea is probably slightly better than the oil and gas norm but it's not that great compared with other industries.
"There is just an enormous potential for redesigning what we do on modern digital principles.
"If you look at how our personal lives have changed massively over the last ten years , and if you look at to what extent our working life has transformed with that same technology being available, it certainly hasn't kept the pace with the rest of the modern world.
"That's an enormous opportunity to save money, be a lot more predictable in your delivery and therefore make some money for yourselves and for your customers."
Energy minister Paul Wheelhouse was in attendance and praised the firm for encouraging innovation in the sector.
He said: "The oil and gas industry has excelled at reducing costs and improving efficiencies in the downturn.
"The renewed focus on innovation and technology is key to maintaining these efficiencies and that's why it's so encouraging to see companies like Petrofac invest in collaboration – that is absolutely something that is needed and it is regularly discussed at the Industry Leadership Group I co-chair.
"Greater cooperation between operators and service companies and wider supply chain is essential to Scotland maintaining its competitiveness in the global oil and gas industry and maximising opportunities as the sector evolves."
Recommended for you

Looking for a connection: Will the North Sea hit its 2030 emissions target?