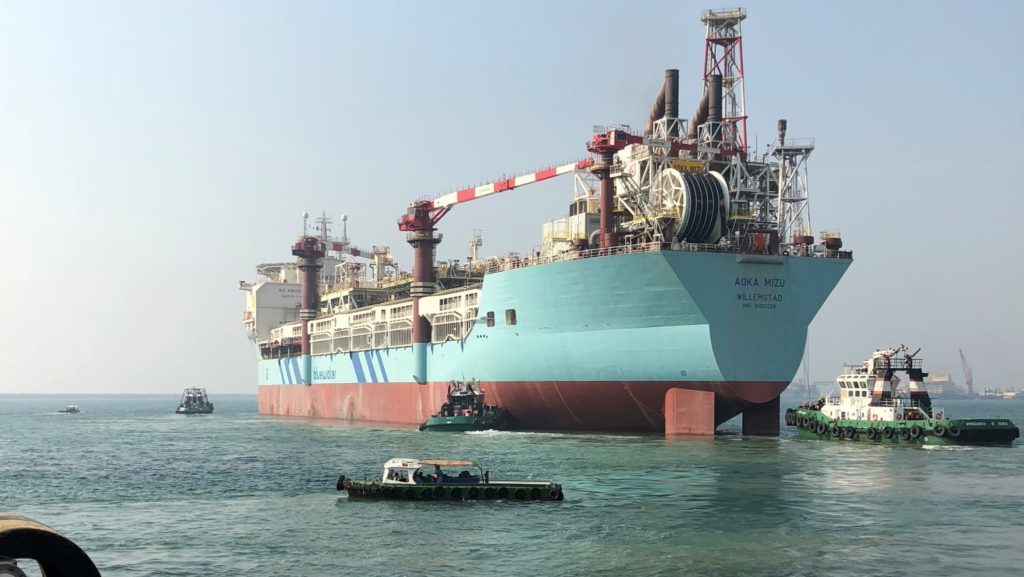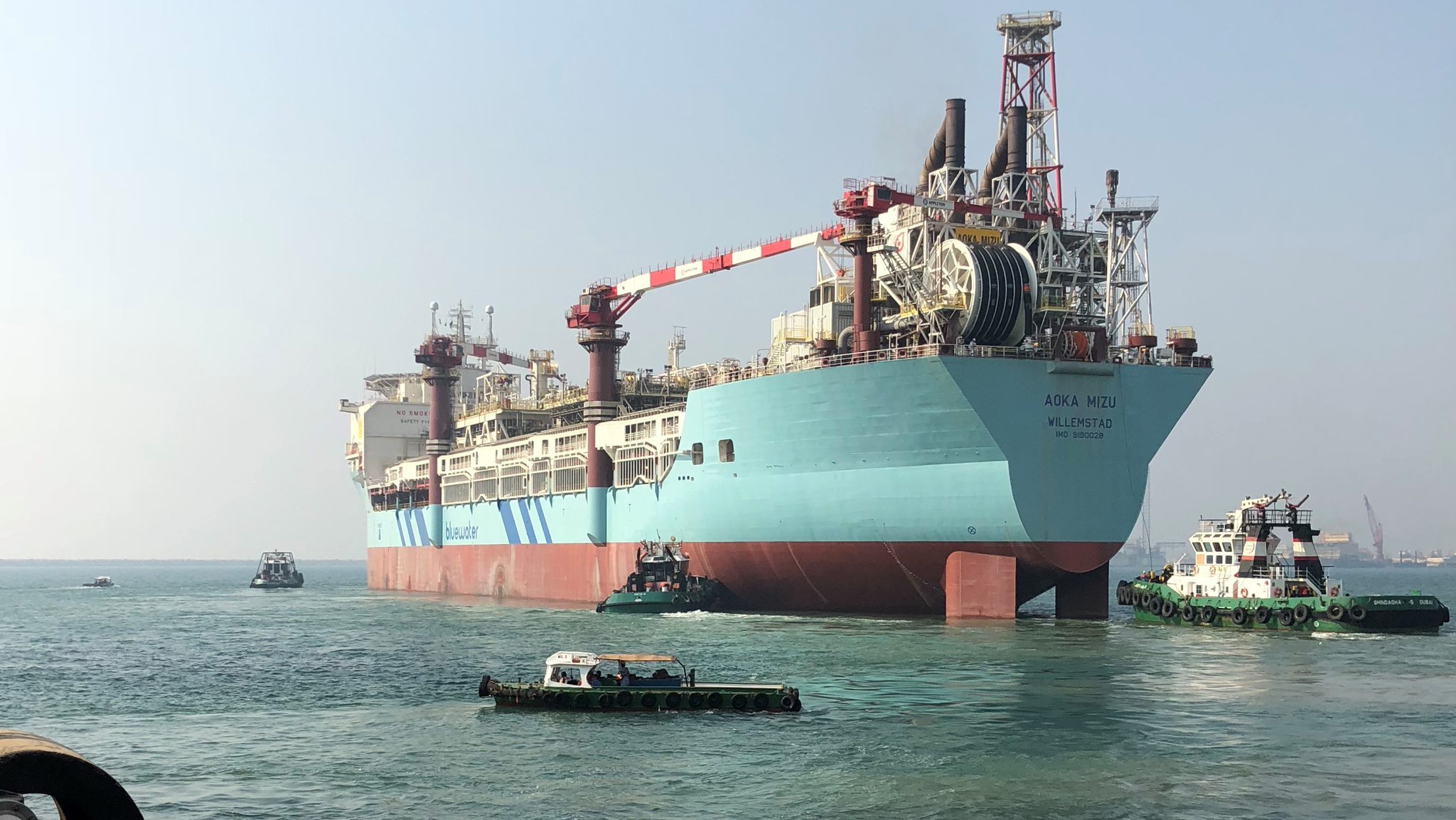 The Aoka Mizu vessel was widely expected to have been installed at the Lancaster field by now, with final preparations under way for the long-term oil production trial, beginning in the current quarter.
Following scheduled completion work in Rotterdam last month – including fitting the flare boom – the Bluewater-owned FPSO took advantage of quiet weather conditions to arrive west of Shetland late last week.
Given the high degree of pre-commissioning, the run-up to first oil could be very short. But Robert Trice, chief executive of field operator Hurricane Energy, has not published an estimate.
"If you look at the ranges of what could happen, it's meaningless," he told Energy Voice, prior to the vessel's departure from the Netherlands. "It's either going to be very short or very long. That's the reality."
That caution was sensible, in hindsight — the FPSO has now returned to the Moray Firth, according to the Marine Traffic website.
Once the vessel is hooked up to the buoy at Lancaster, the start-up process is expected to take 20-22 days. That's about gradually bringing the two production wells on stream individually, checking for flow assurance, and how the Lancaster reservoir's pressures behaves.
Aoka Mizu is well proven and her systems were already well matched to Lancaster.
It was simply a case of carrying out a general overhaul and replacing components during the refit in Dubai.
Critical work involved the addition of plating and screens to protect the ship, its production train and crew from green seas breaking aboard.
"The work was mostly about giving Aoka Mizu an upgrade capable of lasting 10 years," Mr Trice said.
"The risk attached to our start-up procedure is significantly less than for other FPSOs because we're putting the same kind of hydrocarbons into the system as the vessel handled when it was on the Ettrick field."
Mr Trice is confident the two wells drilled so far on Lancaster will deliver results.
He said: "There's so much energy in the reservoir system. The permeability is very high and the productivity index of each well is also high, so the wells should flow without any hassle.
"Our intention is to open them up gently and then bring them up to 10,000 barrels per day (bpd) per well, which equates to 20,000 bpd gross.
"That will net at 17,500 bpd because –over a period of two to three years – we expect there to be downtime for pigging runs, for weather, cargo transfer and so-on."
What is the upside potential to be won from the early production trial, which is targeting 12% of known Lancaster reserves?
The FPSO has more than enough spare capacity to cope. Currently, the capacity of the early production system (EPS) is 30,000 bpd.
But there are hurdles, Mr Trice warned: "We're constrained to 20,000 bpd for regulatory reasons.
"There's an environmental constraint based on gas flaring. When we have a solution, that constraint falls away.
"Then there's the Oil and Gas Authority's perspective of ensuring that we're not mistreating the reservoir.
"Once we've demonstrated how the wells are behaving while producing, there will be an opportunity to renegotiate the maximum flow rate.
"We're looking to increase the capacity from 30,000 to 40,000 bpd because we're working towards a non-flaring solution for the gas, so it will be a pipeline-based evacuation solution.
"If we achieve that and succeed in debottlenecking the production system, we should be able to make the 40,000 bpd."
The intention is to tie back a third well to test the Greater Warwick Area (GWA) Lincoln discovery. Further Lancaster wells remain an option.
"One shouldn't forget that the EPS is the first stage of a broader development," Mr Trice said.
"Prior to planning additional wells to tie in or drill, we want to see how the EPS behaves.
"Based on that behaviour we will be able to make recommendations on how we would like to proceed.
"Our intention is to have a field development plan (FDP) for the next phase of Lancaster within four years."
Hurricane can also use Aoka Mizu to do a bit of playing with GWA, while planning future wells in the Greater Lancaster Area (GLA).
Mr Trice said: "We have a drilling programme mapped – three GWA wells for 2019. If they are successful we expect a further three wells will be drilled, giving a six-well stock for a future GWA development. Then we'll turn our attention to the Halifax-Lancaster structures.
"GWA drilling is scheduled to start in February-March.
"That is an important reason behind why the Aberdeen office presence has been greatly expanded to cope.
"We're getting a drilling team from Petrofac into our new office, and we'll have Spirit Energy geologists and engineers joining the team.
"They're working on three wells back-to-back and it is important to have the same team planning and executing seamlessly."
Each well will be tested for three things – hydrocarbon type, flow potential and reservoir pressure.
Sensors will be left in the wells to discover whether they can "see each other".
If they can, it reinforces the view that GWA is one continuous structure.
The first three GWA wells will be identical to the Lancaster producers with the exception of the downhole pressure gauges.
Each well is expected to take 60-70 days to drill and complete, so the company should have results by late summer.
The most exciting of the GWA wells is the first. It will be drilled into the Lincoln discovery, made in 2017.
Mr Trice said: "If it's as successful as we anticipate, it will be suspended with a view to tying it back to Aoka Mizu next year.
"Our expectation is that we will have made a final investment decision (FID) for this tie-back by the end of this year. We hope to produce 12,000 bpd from this well."
The competent person's report prepared on Lincoln for Hurricane says it is similar to Lancaster. The fracture system that harbours the oil is pretty much identical.
Mr Trice said: "We've demonstrated permeability to total depth of discovery well, so there's a big oil column, and the reservoir is highly permeable.
"From a sub-surface point of view we feel confident that we can drill the horizontal well with relatively low risk. That will be the first of the three wells to be drilled.
"Then we'll move onto Warwick to drill wells two and three. Once the horizontal sections have been completed they will be tested and gauges left in place.
"By the end of 2019, we will have another three wells out there, all at different depths. If the pressures in those wells demonstrate communication between them, we'll be able to define an oil gradient with confidence. That will give us a better handle on how to plan subsequent wells, to more accurately estimate the ultimate oil-water contact and to identify reservoir connectivity."
On the assumption that the 2019 drilling campaign is successful, what's next? Another three wells in 2020 for a start. The challenge will be to fast-track the interpretation of the 2019 wells to identify drilling locations and carry out site surveys for the following year.
The GWA farm-in agreement struck with Spirit Energy is very important. Spirit will fund 100% of the initial drilling campaign and pay 50% of the tie-in cost of one of these wells to the FPSO.
Assuming this leads to a full GWA development, Spirit will make a bonus payment of £120-200m towards Hurricane's costs for that project, although contingent on a positive FID.
"The whole point of this deal with Spirit is that we recognise there is well over a billion barrels recoverable potential on the GWA," Mr Trice said.
"But instead of chasing after a billion-plus barrels, we're initially targeting 500m. The idea is that the six wells will feed into an FPSO and that its production capacity will be scaled to handle 60-80,000 bpd, which would give us 500m barrels over 20-25 years."
What's attractive about targeting 500million? It is dictated to some extent by the west of Shetland conditions. Also, there is an optimum vessel size, which leads to the 60-80,000 bpd FPSO.
"If you go larger than that, everything becomes more complicated and not worth the additional engineering aggravation, risk and expense," Mr Trice said.
"Derisking in 500m-barrel chunks is a perfectly good material volume for investors, for cash generation and it allows one to plan an eventual full-field development.
"The market will like this approach as it accelerates production and pumps in revenue for subsequent phases. Who's to say that once the first vessel is in place and has produced for a couple of years, the joint venture doesn't decide to bring in a second.
"So there are several options for taking GWA forward. The key point is to find out what volumes are there, how readily the hydrocarbons flow, refine recovery factors and plan accordingly."
It looks like Lancaster crude samples have already been well received by refiners. It is both light and relatively sweet, so should attract a good price in a world where oil markets are increasingly dominated by sour, heavier crudes.
He is keen to acknowledge the role played by the OGA in getting Hurricane to the threshold of realising its bold basement geology dream.
But then it is in the OGA's interest to foster Hurricane as the company is responsible for a clutch of very large finds with around 2.5bn barrels equivalent of gross discovered resource across its portfolio to date.
There is one big loose end to this story and that is what happened with the well drilled on the Halifax prospect two years ago, which didn't work quite to plan.
It was originally designed to flow hydrocarbons to the surface and deliver reservoir pressure measurements.
But there were formation damage issues, though these have since been resolved, according to Mr Trice.
"Basically and surprisingly it was the drilling mud we used that was the root of the problem," he said.
"We used a calcium chloride mud and have since demonstrated through experimentation that it reacted not only with the granite fines but also the hydrocarbons present to form a paste, which clogged up the natural fractures.
"Why can we be confident about this and that we didn't drill into a tight piece of rock? Gas chromatography, wireline logs, cores and the fact that we saw tidal effects on the pressure measurement all pointed to the Halifax formation behaving in the same way as Lancaster."
So what's the next step with Halifax?
Mr Trice said: "We're going to have to drill another well. That will most likely be designed as a horizontal well. Those are far more forgiving than inclined wells because formation damage is lower. Then we will learn whether Halifax 'talks to' the Lancaster EPS.
"Our geological model is that Lancaster and Halifax are one continuous structure. The best way to test that is to measure pressure at two different points.
"If it transpires that there is a barrier in place, it certainly won't reduce the value of Halifax. It's an experiment that needs doing. Our current thinking is that the next GLA well will be drilled in 2021.
"So three wells this year and three next year on the GWA, then we'll move onto the GLA to drill a further three. If we can fast-track we will."
Recommended for you

Govt approves provisional plan for Lancaster FPSO decommissioning