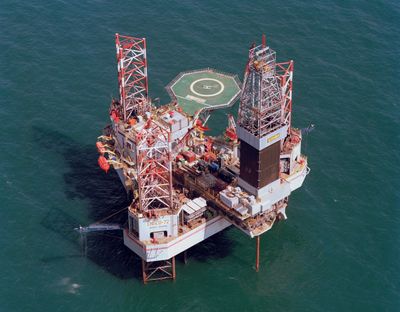 Corallian Energy's appraisal well on the Colter field missed its original target, but made an oil discovery anyway.
The company booked the Ensco-72 jack-up rig to drill the main Colter prospect in the Wessex Basin.
The Colter well (98/11a-6) was an appraisal of a well drilled by British Gas in 1986.
The well "unexpectedly" kept to the southern side of the Colter prospect's boundary.
Despite missing its mark, the company kept drilling and struck oil and gas, making a "separate discovery to the original appraisal target".
It is thought that Colter South could yield 15 million barrels of oil, but further analysis will be required to firm up the estimate.
Project partners now intend to drill a sidetrack well targeting the Colter prospect on the northern side of the bounding fault.
It should take about two weeks to complete.
Stephen Williams, Co-CEO of Reabold, said: "We are very pleased to have encountered pay within the Colter South fault block which would add significant volumes to those which we hope to encounter within the Colter fault block following the side-track."
United Oil and Gas has a 10% take in the license.
CEO, Brian Larkin, said: "Initial results from Colter have delivered a bonus in the form of an additional hydrocarbon structure, which has excellent initial oil and gas shows. This offers opportunity for future appraisal and to increase the overall value of the Colter licence for our shareholders. More work will be required to determine the resource potential within the structure, and we will update shareholders on the outcome of the side-track well in the coming weeks."
Recommended for you

'Tsunami' of unrest to hit North Sea as 1,400 workers ready to strike