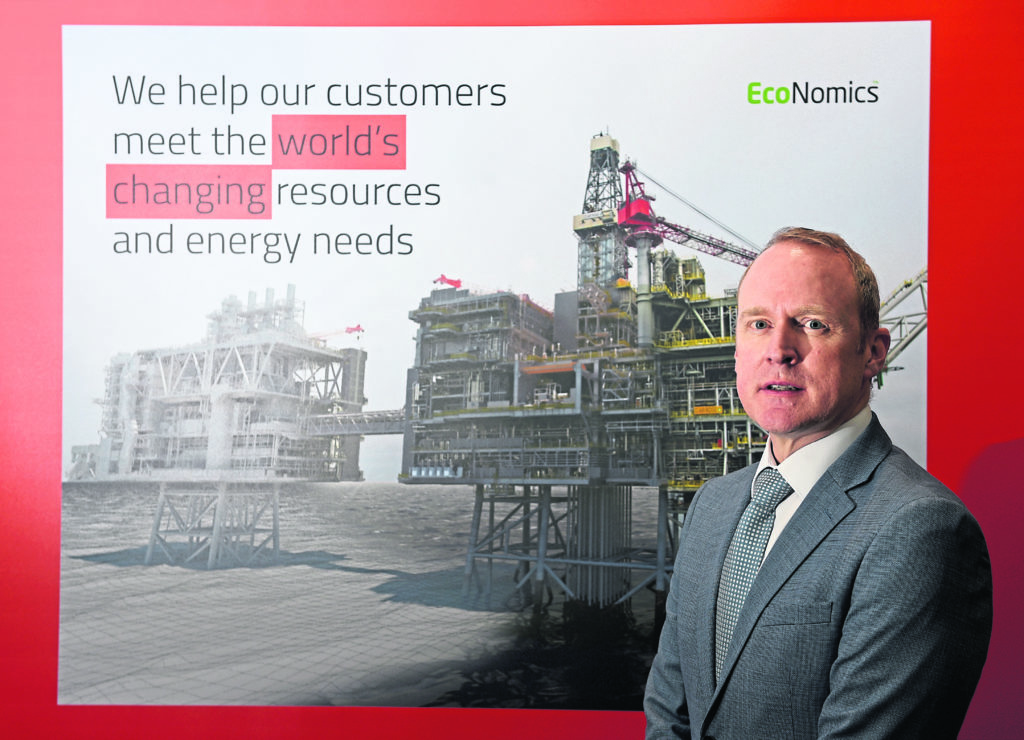 Jeremy Cresswell gets the low-down on the benefits of WorleyParsons' acquisition of Amec FW's North Sea operation
WorleyParsons last month turned in a chipper set of financials that acknowledged the benefits brought to the Australian firm by its acquisition of Amec Foster Wheeler's (AFW's) UK North Sea business in late 2017.
Now led by Shaun Poll, managing director, UK Integrated Solutions, it seems the business is in good shape.
There are three pillars to the strategy for the Aberdeen-based integrated solutions business: making sure the company continues delivering successfully to current customers, growing the business locally and exporting the skills that reside within the division.
"The past 12 months have been very successful," Mr Poll said. "The transition's worked really well."
Trying to merge corporate cultures after an acquisition frequently fails.
Bear in mind that the Amec team had rather been through the mill as a result of AFW's takeover bid by Wood Group, which resulted in the UK Competition and Markets Authority forcing the divestment of AFW's North Sea business, opening the door to a £182 million bid by WorleyParsons.
That put an end to several months of uncertainty for the 3,000 people at the entity, whose core business remains long-term maintenance and modifications contracts with a large cadre of UK North Sea operators.
Mr Poll has extensive experience of both WorleyParsons and of having worked for Amec in the past.
"In terms of the cultures, they're very similar," he said. "I did a draft briefing note for the WorleyParsons board a long time when the idea of making an acquisition came up.
"But then I forgot all about it. It wasn't in my remit at the time to take it any further.
"I long ago saw this as a good cultural fit and it's been very easy to make this work. When the AFW team in Aberdeen looked at the opportunity that WorleyParsons brought when we acquired the business, it was embraced with open arms.
"Part of the WorleyParsons culture is about how we connect globally, how we help each other across the business.
"We haven't had to force the WorleyParsons culture into the business. It really has been a neat fit. There are only two heritage WorleyParsons people who have come into this part of the business post-transition. Normally, we would see a lot more people implanted. But that's not been necessary."
This was presumably encouraging for the main board, given that trans-national corporations often have problems keeping a genuine grip on subsidiaries scattered around the globe.
Mr Poll said: "WorleyParsons' global leadership team was here for a week last year just as the acquisition was completing and everyone was very happy.
"The fact that we have Jim Lenton here is really good. He understands the business here really well. He's spent 25 years in the North Sea and is now the head of our overall division for delivery of integrated solutions based out of Houston. Having such knowledge resident there really helps."
Some aspects of the AFW approach have been absorbed into the WorleyParsons model too, especially the construction and commissioning element.
The objective, of course, is to grow the business. However, background trading conditions in the North Sea have been harsh. So what is the current position?
Mr Poll said: "Locally, we have 13 long-term operations and maintenance and engineering and construction contracts, which gives us a strong base."
Since the merger concluded in late 2017, WorleyParsons has won significant contracts with Total, Nexen, ConocoPhillips and Saudi Basic Industries Corporation.
"The key for us going forward is about making sure that we're working in collaboration with our tier one contractor customers and other relevant companies in the supply chain," Mr Poll said.
"To really look at projects that might ordinarily not be seen as viable but which can be transformed by taking a different approach to convention, especially with oil and gas small pools opportunities.
"What we can do collectively that's different? That way the North Sea can have a viable future, which is why WorleyParsons acquired the business.
"We want to be here for a long time. After all, heritage Amec goes back 40 years. It's not just about late-life and decommissioning. It's also about how we make marginal fields viable by working together, more efficiently and smarter."
However, it's all very well everyone talking about cooperation and collaboration, the latter being the most overworked buzzword since oil prices crashed mid 2014.
However, there is a growing feeling that, as oil prices pick up and stimulate more activity, so competition for attention from the supply chain grows and operators revert to their old habits.
It boils down to the "leopard's spots" syndrome yet again.
"We're not seeing that currently," Mr Poll said. "We are looking at collaborative solutions with various customers in the supply chain and there is obviously a resource issue with securing the right talent.
"A lot of people left the oil and gas industry as a result of the 2014 downturn and the workforce is ageing.
"However, we've started employing graduates again. We're bringing on apprentices. It's a small start but it demonstrates that we're committed locally to make sure that we're bringing new engineers through too.
"We're a tier one contractor, but we're also agile, have a strong locally-focused business reinforced with global input from the wider WorleyParsons.
"We have companies like Scopus as a part of the group that enable us to do more for less. As a result, we see lots of opportunities for us to deliver outstanding results to our customer base."
While oil and gas is core business for the Aberdeen business unit, Mr Poll has his eye on the maritime power generation market too.
He said: "We have a number of people who are focused on renewables. We have an office in Great Yarmouth where we're specifically looking at renewables opportunities.
It's a key focus in the current financial year in terms of getting into that business.
"WorleyParsons globally has been a major player in renewables, so really it's about tapping the wider business and bringing that expertise to bear here."
Turning to people, the headcount at WorleyParsons UK Integrated Solutions (UKIS) stands around 2,500. The number is down on the nominal count at the time of the buyout, but Mr Poll argues turnover has been moderate.
"The core people who were with the company at the time of the acquisition are mostly still with us," he said. "We've even recruited former AFW people who had left prior to the deal back into the business. We're in recruitment mode and are looking for talented people.
"We recently started to advertise but appreciate that the WorleyParsons name isn't as well known locally as the Amec brand."
Of course Mr Poll has to ensure that the business he leads delivers a margin that the wider group can live with, especially now that the oil and gas industry is picking up again.
"For us in terms of the last 12 months, the UKIS business made a very positive contribution to the overall hydrocarbons part of Worley Parsons. That doesn't mean it's a high margin business, because it's not. We believe we can deliver outstanding outcomes for our customers and therefore achieve returns."
Recommended for you

UK North Sea sees chance for political reprieve in energy crisis