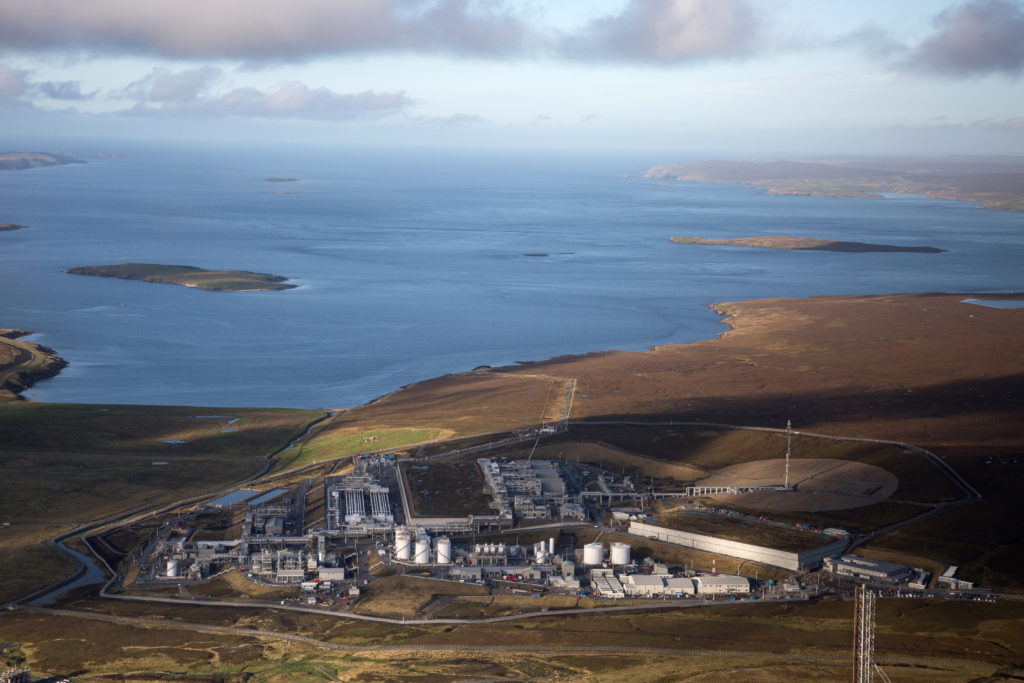 Union members at the Shetland Gas Plant have started the first of a series of 24-hour strikes today.
Aker Solutions staff at the plant, which is operated by Total, downed tools in a dispute which earlier this week also kicked off a series of stoppages at three North Sea platforms over offshore rotas.
Petrofac and Aker Solutions workers voted to strike over plans to switch from a two weeks on, three weeks off (2:3) rota to a 3:3, 3:4 schedule, which trade union Unite said was "hated" by workers.
Today's is the first of a series of five 24-hour strikes taking place at the gas plant and involves about 25 Aker crew.
Last week Aker and Petrofac said they had entered into a consultation with workers over new contracts, but Unite described this as "scandalous" step to "terminate and re-engage" workers.
Unite said it had proposed a new offer for workers at the gas plant last Wednesday to Aker Solutions, which was rejected.
The final day of action at the gas plant is scheduled to take place on Wednesday, May 8.
John Clark, Unite regional industrial officer, said: "Unite members at the Shetland Gas Plant stand ready to fight against the outrageous actions taken by Aker.
"The company at the bidding of Total have behaved with zero regard or thought for their employees.  Unite members' dedication and professionalism has been rewarded by an unprofessional and callous attitude through the imposition of redundancy notices, new contracts and the hated 3:3,3:4 rota system.
"Unite will resolutely defend the interests of our members in the forthcoming dispute, and tomorrow's day of action is just the start."
A spokesperson for Total said: "Employees of Aker Solutions who are contracted to work at Total E&P UK's Shetland Gas Plant have started 24 hours of industrial action.  Safety is our foremost concern and we have made sure there is no increased risk as a result of this industrial action.
"We have carried out a full risk assessment and ensured that the gas plant remains a safe working environment for those who will remain at their posts.
"Given the nature of the roles carried out by those taking part in the industrial action we can also confirm that production will continue from the gas plant."
Both Aker Solutions and Petrofac have said they are committed to engaging with offshore teams, trade unions and customer Total to bring the process to a close safely and securely.
Last year crew employed by Total on the same three platforms went on strike over rota changes on several occasions.