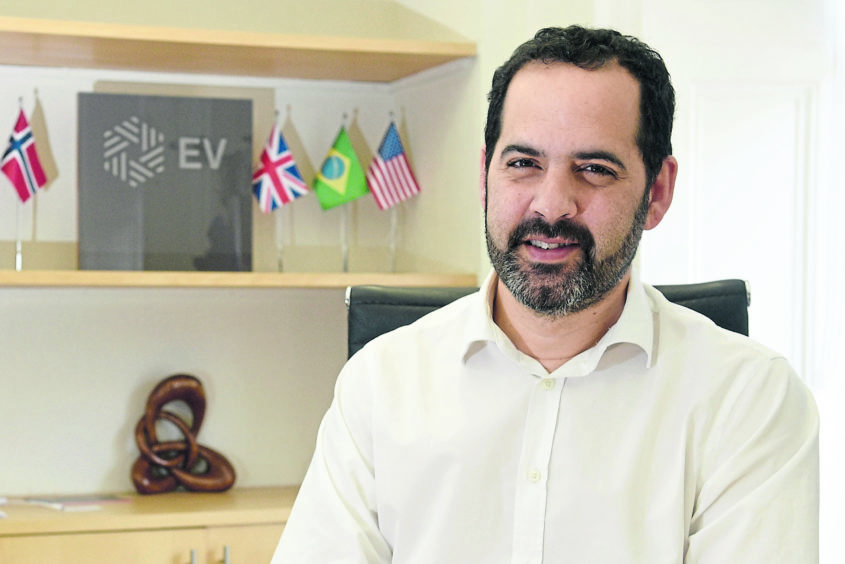 A private equity investor in oil and gas technology firms has said there is a lot of "fear and uncertainty" in the mergers and acquisitions market.
Greg Herrera, senior partner at EV Private Equity (EVPE), said the fund was working on about six deals across its offices in Aberdeen, Houston and Stavanger.
But Mr Herrera is realistic and experienced enough to know that deals can be "whipped off the table" in the 11th hour. Many investors turned on their heels and ran screaming from the oil industry after the oil price drop in 2014.
But not EVPE, which has made about a dozen investments across the group since 2015, the most recent of which came last week, when it struck a deal to inject millions of pounds into Motive Offshore Group, which is headquartered in Boyndie, Banff in Scotland.
Mr Herrera reckons EVPE's recent activity puts it top of the list for the number of investments in oilfield services (OFS) equipment providers completed in recent years, though it may not be number one in terms of volume of capital committed. The fund has also exited five investments in that time.
Mr Herrera thinks the oil and gas industry has passed through the trough and is on the path to recovery, as shown by operators generating record cash flow.
They've done that by cutting their own costs, but also by "savaging the supply chain and being ruthless", he said.
Mr Herrera said the past five years were about survival and "extremely limited investment in innovation".
That largely meant shutting down research and development, exiting non-profitable product lines and making incremental investments on existing portfolio companies.
Mr Herrera is taking heart from the more positive vibes coming from a number of sources, including taxi drivers, who have started saying Aberdeen's outlook has brightened.
He is also encouraged by the "astonishing" number of vacancies being advertised on LinkedIn.
But Mr Herrera is convinced that at least 15% of those who left the oil and gas industry during the downturn won't come back, either because they have retired or were unhappy with their treatment. It means industry will have to use some of the newer, less manpower-intensive technologies and services which are being developed to fill the labour gap.
The biggest challenge, said Mr Herrera, is that the oil and gas industry "hates anything new".
He said EVPE had kept investing through the downturn and had tried to identify gaps in the market for products that can save operators time, reduce cost and uncertainty, and lower staffing requirements.
He has high hopes for Morphpackers, a Westhill-based supplier of expandable steel packers and their ability to improve the recovery factor of shale wells.
Enpro Subsea, also from Westhill and one of EVPE's more recent investments, is helping operators achieve first oil more quickly and cheaply from subsea tiebacks with its flow access module. And Aberdeen's Deep Casing Tools, another recent investment, is working on a number of technologies, and might be on to something with its "cement bond-breaker" tool for well plugging and abandonment jobs.
On balance, Mr Herrera expects EVPE's portfolio companies to post better financial results this year. The picture is less encouraging for those focused on exploration, but most of the companies have new products and services to get excited about.
Mr Herrera said: "Our strategy is to support our portfolio companies. Will the world go back to the heady heights? You cannot plan for that.
"You have to think that today is as good as it's going to get, and that it could get worse again, so you have to make sure investment is sustainable."
Recommended for you

'Tsunami' of unrest to hit North Sea as 1,400 workers ready to strike