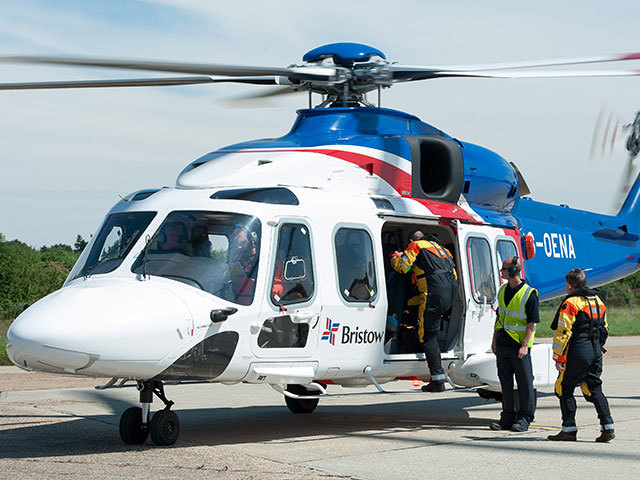 The parent company of a North Sea helicopter firm, which also carries out search and rescue operations in the UK, is considering taking US-style bankruptcy to end its debt woes.
Texas-based Bristow Group said the company and certain subsidiaries may take Chapter 11 bankruptcy as part of efforts to solve the issue, in a filing to the US Government.
Chapter 11 lets firms continue trading while paying off debts, a method also taken by oilfield services firm Expro in December 2017.
Around 900 people are employed by Bristow in the UK and a spokesman said its operations are not expected to be affected.
Bristow also carries out search and rescue services on behalf of the coastguard in 10 bases across the country.
The Maritime and Coastguard Agency said it has "protections" in place in the unlikely event the contract cannot be fulfilled.
Another helicopter firm CHC filed for chapter 11 bankruptcy in 2016 which it managed to survive thanks to financial restructuring.
According to its latest set of financial results, Bristow Group has long-term debt of nearly $1.5bn (£1.1bn) including interest, but the firm said yesterday it has liquidity of £154.7m.
Concerns were first raised in February when it announced there were "material weaknesses" in its financial reporting and that its full year results ending March 31 last year "should no longer be relied upon".
Yesterday the firm said it has brought in financial advisors to address the situation and has deliberately missed a deadline for a £9.5m interest payment.
Ashley Kelty of analyst firm Cantor Fitzgerald, said the announcement suggests Bristow is "on the cusp of bankruptcy" and the weaknesses mentioned by Bristow means the picture "could be even worse".
The firm said it would consider taking the bankruptcy route as part of its bid to restructure its debt and address the "weaknesses" identified, which relate to helicopter lease agreements.
Bristow has also delayed reporting its third quarter results for this financial year.
A spokesman for Bristow Group said: "We are working with financial and legal advisors to best position the company financially and operationally – that means we are analysing various strategic financial alternatives to address our capital position, including strategic and refinancing alternatives to restructure our debt and other contractual obligations.
"No final decisions have been made at this time. This is being managed at the Bristow Group level and we don't anticipate any impacts to our operations globally, including our operations in the UK."
Nicolas Jouan, Aerospace and Defense Analyst at Globaldata said:  "Bristow's financial difficulties are the result of a twofold challenge for the helicopter transportation service industry. On the one hand, the oil price crash of 2015 has damaged a once flourishing business but overly reliant on one single industry: the offshore drilling industry.
"When crude oil price started to drop, drilling companies explored cost saving options such as longer personnel rotations, automation and alternative transport solutions such as boats. All of these resulting in less demand for helicopter transport services.
"On the other hand, a fleet comprising 318 helicopters and 78 fixed-wing brings enormous MRO costs that can severely impact Bristow's balance sheet. At the beginning of the 2010s, the company attempted to expand in commercial airlines with the acquisitions of Eastern Airways and Airnorth, but returns have been questionable.
"The problem today is that even as oil price rebounds, offshore drilling companies have got used to save money on transport and will not revert to pre 2015 spending habits. Furthermore, the market tends to be overcrowded with for instance CITIC Offshore Helicopter, CHC Group and Era Group active in the same segment, suggesting future consolidations. Bristow already engaged in that way with the acquisition of heavy-lift specialist Columbia Helicopters at the end of 2018."
Around 30 people are employed at each search and rescue base around the country operated by Bristow on behalf of the coastguard.
A spokeswoman for the Maritime and Coastguard Agency said: "The current difficulties are contained within Bristow Group and do not affect the Department for Transport's contract with Bristow Helicopters Limited.
"Bristow Helicopters Ltd continues to fulfil its contractual obligations with the UK Government.
"The Department for Transport has protections in its contract to guarantee a search and rescue helicopter service in the unlikely event these obligations should go unfulfilled."
Recommended for you

Helicopter part shortage presents 'significant safety and operational risks'