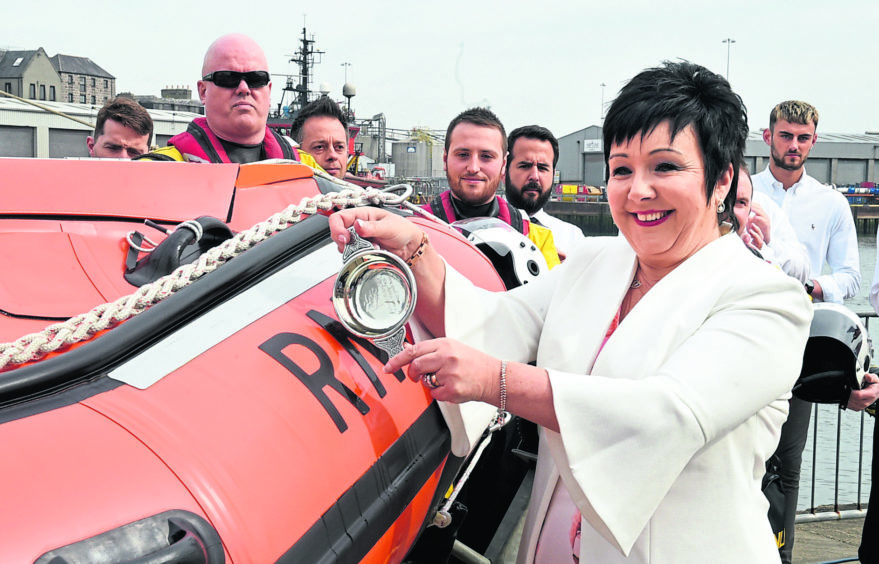 The legacies of 16 people killed in a helicopter crash have been remembered with the naming of a new lifeboat.
Hundreds of guests attended a poignant ceremony at Aberdeen Harbour on Saturday morning when the in-shore vessel was formally handed over into the care of the city's lifeboat station.
It was officially christened Buoy Woody 85 by Audrey Wood, the mother of Stuart Wood, one of the men who died in the crash 12 miles from Peterhead on April 1 2009.
Since the tragedy she has worked tirelessly with her family to raise much-needed funds for the RNLI and lifeboat stations across the north-east, including generating two-thirds of the money needed for the new boat.
Closing the ceremony, she poured a traditional dram of whisky over Buoy Woody 85 – named in honour of her son and the 15 others on board helicopter flight 85N that day.
She said: "I'm really overwhelmed looking at the lasting legacy for Woody, now that we've donated this boat.
"It was only following this tragedy that we as a family realised that the work of the RNLI was voluntary.
"Over the past 10 years we have managed to raise £235,000 – more than we ever dreamed possible.
"The money has been distributed to local RNLI stations along the north-east coastline from Buckie to Aberdeen.
"Our hope is that this money will help save lives at sea around our coast, so that other families might be spared the pain that we have had to endure."
Buoy Woody 85N has already been called out to "several" shouts for lifeboat crews.
This included an incident in the early hours of Friday morning where two women died in the water off Aberdeen beach.
Aberdeen lifeboat coxswain Davie Orr said: "Today means so much. It's the culmination of a lot of planning and fundraising by Audrey, her family and all the people round about her.
"It's a very proud day for the station and it's one of these things that goes down in a lifeboat station's history. The inshore lifeboat is going to be invaluable to the city.
"Its purpose is to go into shallow water, access the rivers and go in about close to the beach, into the rocks.
"It's certainly the workhorse of the RNLI and without it, we would struggle to do what we need to."